A strong cold front brings a return of winter temperatures and gusty winds to North Texas this weekend, ending our stretch of mild weather.
The front arrived overnight, bringing wind gusts of just over 50 mph to some areas.
Temperatures Saturday will be much lower and well below normal. Most of the day will be in the 30s and 40s, with wind chills in the 20s and 30s.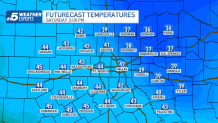 Occasional flurries or light snow are possible during the day Saturday but are very unlikely in the Metroplex and no accumulations or travel impacts are expected.
In addition to the cold, a strong northwesterly wind will blow at 25 to 35 mph, with gusts as high as 50 mph through much of Saturday. A Wind Advisory will be in effect through Saturday evening for all of North and Central Texas.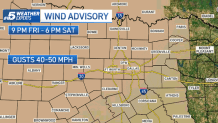 The combination of the strong winds, very low humidity and dormant vegetation will cause the fire danger to be elevated across a large portion of western North Texas. Avoid doing any open burning and be careful not to produce sparks that could start a grass fire.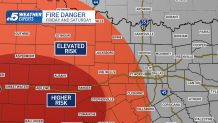 The strong winds will diminish by Saturday evening with widespread freezing temperatures likely.
Weather Connection
Connecting you with your forecast and all the things that make North Texas weather unique.
Expect a hard freeze Sunday morning with low temperatures in the 20s and wind chills in the teens and 20a. The afternoon will be rather chilly with a brisk north breeze and highs in the 40s to lower 50s.
CONTINUING WEATHER COVERAGE
Stay up to date with the latest weather forecast from NBC 5's team of Weather Experts by clicking here or by watching the video below.