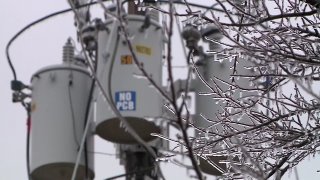 As of noon Thursday, Oncor is reporting roughly 17,300 customers without power statewide, a drop of about 8,000 customers since noon.
The following is a list of local counties with the numbers of customers affected, according to Oncor's outage webpage at 6 p.m.
Collin County: 4,945
Dallas County: 1,213
Denton County: 65
Tarrant County: 832
Oncor said nearly 30% of the outages occurred after 10 a.m.
"We recognize the stresses and hardships our customers without power are facing, especially during this severe cold weather," Oncor said in a statement Thursday afternoon. "Nearly 6,000 Oncor employees and contractors have been working to restore power as quickly and safely as possible, and this work will continue around the clock. In addition, more than 1,700 out-of-state utility partners are also supporting restoration efforts."
Oncor said restoring power is made more difficult by ongoing weather and hazardous road conditions which hinders the arrival of crews.
"Ice accumulation continues to pose the greatest impact to service, and new outages are possible as the increasing weight pulls down trees and limbs," Oncor said.
Weather Connection
Connecting you with your forecast and all the things that make North Texas weather unique.
To report an outage or a downed line, click here, or call 888-313-4747, or text "Out" to 66267.
PLAN AHEAD FOR POWER LOSS
During winter weather, you could lose power for a number of reasons. Plan ahead by charging phones, tablets, and other devices so that you can stay informed of changing weather conditions.
If you haven't already, download NBCDFW's app so that you can read and watch the latest updates from our team of Weather Experts on your mobile devices even if you lose power in your home. Be sure to enable notifications so that you're alerted when we're in live coverage online.
Additionally, make sure you've added the NBC DFW OTT app to Apple TV, Fire TV or Roku -- using our app on those platforms you can watch our exclusive digital coverage on your television.
If you have a generator, it's important to remember those should not be running indoors -- including in the garage. Exhaust from generators contains high levels of carbon monoxide which can be fatal in minutes.