Authorities are set to survey the damage left behind after tornadoes swept across the Southern Plains Wednesday, killing one woman, overturning cars and destroying dozens of homes near Oklahoma City.
At least 12 people were injured and one woman was killed after the twisters touched down in rural parts of Texas, Oklahoma, Kansas and Nebraska.
NBC 5 has learned a 42-year-old woman in southeast Oklahoma City drowned when she was unable to escape her underground storm shelter that filled with water.
As sun comes up devastation in #OKC becomes more clear. Tornado ripped thru mobile home park. @NBCDFW@TXThunderTruckpic.twitter.com/MfsGIb8599

— Amanda Guerra (@AmandaNBC5) May 7, 2015
Lara O'Leary, a spokeswoman for Emergency Medical Services Authority, said late Wednesday that the company transported 12 patients from a trailer park in south Oklahoma City to hospitals. She did not have further details about the extent of the injuries.
The Oklahoma City-area seemed to be the hardest hit. A twister destroyed homes in Grady County, southwest of the city, and it appeared another tornado touched down in the area later in the evening when a second storm came through.
Tornadoes, Flooding Strike Oklahoma City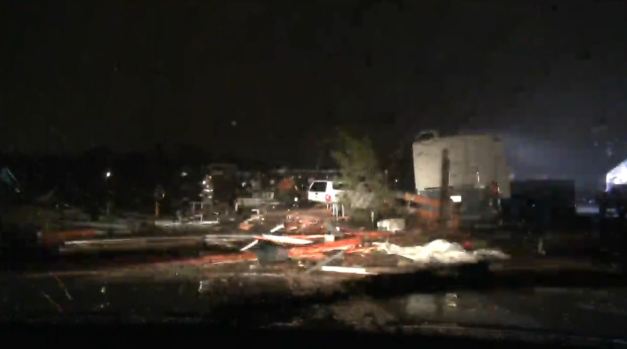 "We do strongly think there was a tornado on the south side of Oklahoma City," Meteorologist Michael Scotten said after the second storm hit at about 8:40 p.m.
That storm flipped vehicles on Interstate 35 and left power lines strewn across the roadway, Scotten said.
Storm Chaser Caught in Tornado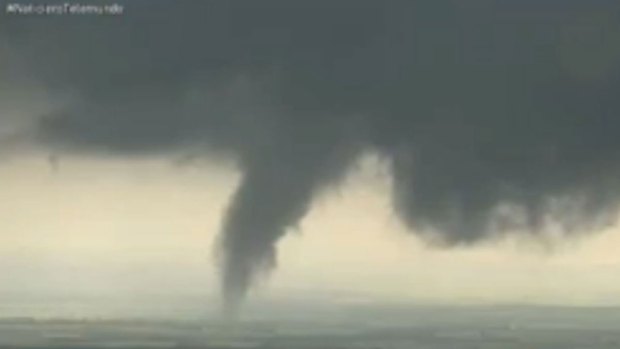 Another threat also loomed: flooding. The storms dumped up to six inches of rain in the southern part of Oklahoma City, prompting the city to issue a flash flood emergency for the first time in its history, said city spokeswoman Kristy Yager.
Grady County Emergency Management Director Dale Thompson said about 10 homes were destroyed in Amber and 25 were destroyed in Bridge Creek. As the storm moved to the east, forecasters declared a Tornado Emergency for Moore, where seven schoolchildren were among 24 people killed in a storm two years ago. When the first of the storms moved through Wednesday, school districts held children in safe places until the storm passed.
Also in Grady County, about 25 miles southwest of Oklahoma City, all animals were accounted for after a zoo in Tuttle was hit by a tornado, according to sheriff's dispatcher Alisa Voegeli. The damage had initially prompted fears that wild animals had escaped.
At Will Rogers World Airport in Oklahoma City, people were twice evacuated into a tunnel outside the security zone.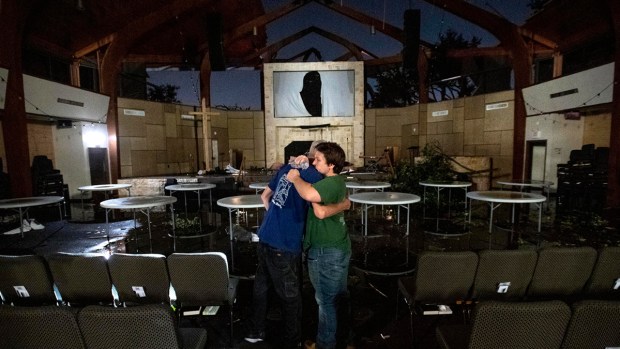 Extreme Weather Photos: Twister Touches Down on North Texas
In Nebraska, 10 to 15 homes were damaged near Grand Island, and between Hardy and Ruskin, near the Kansas line. At least nine tornadoes were reported in Kansas, the strongest of them in the sparsely populated north-central part of the state. That included a large tornado near the tiny town of Republic just south of the Nebraska state line, where some homes were damaged. In Harvey County, a tornado destroyed a hog barn and damaged trees, according to the National Weather Service.
The Storm Prediction Center had warned that bad weather would come to Tornado Alley, and more storms were possible later in the week, with flooding a major concern.
Raw Video: Aerials of Tornado in Oklahoma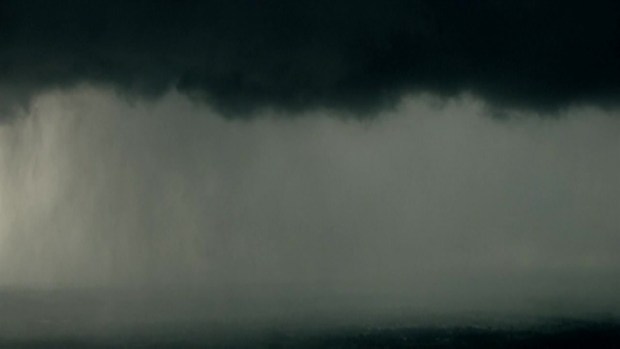 "People just really need to stay weather aware, have a plan and understand that severe storms are possible across portions of the Southern Plains almost daily through Saturday," National Weather Service Meteorologist Jonathan Kurtz said.