The storm system that produced large hail and high winds for the DFW is expected to be followed by a cold front overnight.
Friday afternoon, NBC 5 received reports of hail ranging in size from dime-sized to golf ball-sized, especially in Denton and Collin counties. High winds damaged some power lines in Tarrant County.
A cold front will sweep through overnight, and usher in much cooler air for the weekend. Highs on Saturday and Sunday will stay in the 60s. Patchy frost is possible Sunday morning.
Get the latest forecast information from NBC 5's team of Weather Experts here.
Latest Video Forecast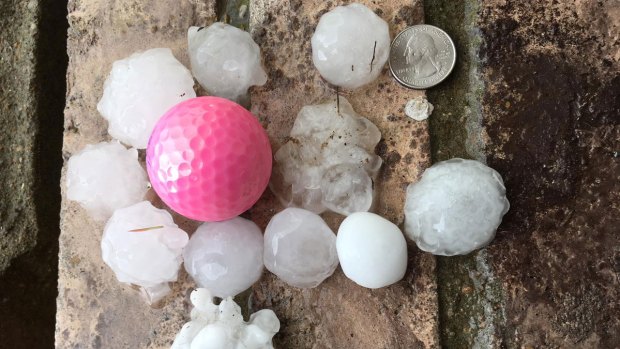 Friday the 13th Hail Storm Photos
Coverage from our reporters and meteorologists are in tweets below:
A longer loop of the anticyclonically-rotating supercell thunderstorm south of DFW this evening. This just fascinates the heck out of me ... #WeatherNerd#dfwwx#NBCDFWWeatherpic.twitter.com/t4fjUZRGNo

— Brian James (@BrianJamesNBC5) April 13, 2018
Crazy Texas weather! Hail falling on me as a beautiful rainbow 🌈 pops up! https://t.co/6ppXh3rvEX#NBCDFWWeatherpic.twitter.com/RQQlHzU1Ik

— Texas Thunder Truck (@TXThunderTruck) April 13, 2018
LOUD NOISES!!!!! Good thing I'm riding shotgun with the @TXThunderTruck#NBCDFWWeatherpic.twitter.com/w3lOLmtluf

— Cory Smith (@CorySmithNBC5) April 13, 2018
A lot of ppl trying to escape the hail falling in Melissa #NBCDFWWeatherpic.twitter.com/XrZMyRwfiL

— Cory Smith (@CorySmithNBC5) April 13, 2018
@JJT_Journalist, @noah_bullard and hail... at @thestarinfrisco. Stay #weatheraware#nbcdfwweatherpic.twitter.com/qlsENlcooR

— Don Peritz Jr. (@DonPeritzNBC5) April 13, 2018
Multiple power lines down and roof damage in the area of N. Riverside Drive and Keller Hicks in Ft. Worth @NBCDFWWeather@BrianJamesNBC5@NWSFortWorthpic.twitter.com/BBdgaPU2uV

— TxWxChaserBryan (@TxWxChaserBryan) April 13, 2018
Maps and Radar