The National Weather Service says four tornadoes touched down in North Texas Sunday afternoon.
An EF-1 tornado touched down in North Arlington, not far from Globe Life Park.
An NWS survey team determined the tornado was on the ground for about a minute and covered about two miles with wind speeds up to 95 mph.
Significant damage was reported in the area including toppled trees and roof damage to homes immediately northwest of Globe Life Park.
The rest of the damage immediately nearby was straight-line winds, likely 60-70 mph, the NWS said.
The National Weather Service also determined an EF-0 tornado with wind speeds up to 85 mph tracked for 1.25 miles through north Fort Worth in the Crawford Farms and Vista Meadows subdivisions. Another EF-0 tornado was confirmed over Eagle Mountain Lake.
On Tuesday, NWS confirmed an EF-0 tornado hit Farmers Branch near Mustang Trails Park Sunday. Winds were estimated at 85 mph with a path length of 0.12 miles.
In addition, damage in Farmers Branch, Euless, Bedford and Irving was caused by 60 to 70 mph straight line winds.
Homes Damaged Sunday After Tornado in North Fort Worth
David Benson and his family were out celebrating Father's Day by the pool.
"My son-in-law looked up to the sky and said, 'Wow there's rotation, there's debris in the rotation,'" Benson said.
"There was no tornado warning, no sirens going off, no nothing," said Benson's son-in-law Steven Burris.
The family made it inside just in time -- before part of the roof peeled off.
"My house and my two neighbors' houses are the center of destruction, looks like a war zone," Benson said.
They just closed on the house on Friday, moved in Saturday and lost it all on Sunday, yet they're still counting their blessings.
"We're all safe, we're all alive, we're here to talk about it and the rest of it's just stuff," Benson said.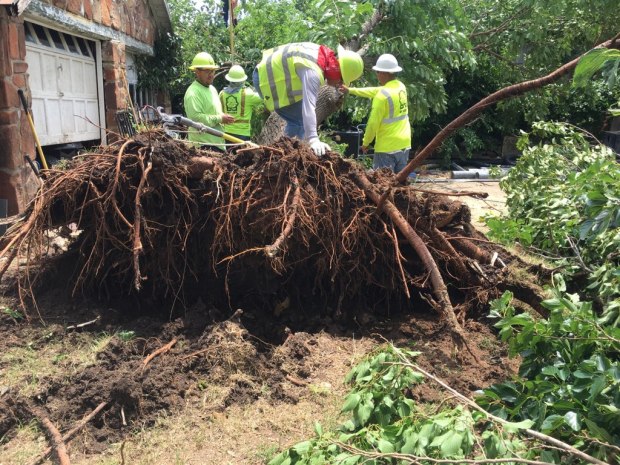 Your Storm Damage Photos - June 16, 2019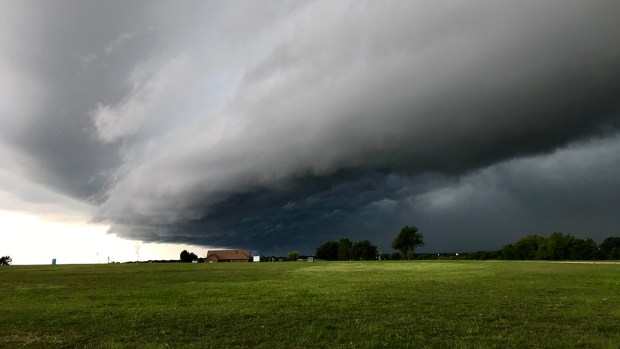 Your Storm Cloud Photos - June 16, 2019
Before the Storm
Stay Connected. Download the NBC DFW App
Charge your phones and tablets so that if you lose power you can still watch live weather coverage in the App.
Latest Video Forecast
Tornado and Hail Safety
NBC5's Alice Barr contributed to this report.