Forecast | Weather Alerts | Maps & Radar | Send Us a Photo/Video | Skycams
Another powerful storm system rumbled through Texas on Saturday, flooding roads and causing a freight train to derail as parts of the state braced for the remnants of Hurricane Patricia to arrive.
Many parts of Texas, including its biggest cities, were under flash flood watches through Sunday or Monday.
The Texas Department of Transportation said just before 11:30 a.m. both the north- and southbound lanes of Interstate 45 near Corsicana were closed to traffic because of high water. The road was closed overnight amid flooding but reopened early Saturday morning.
TxDOT detours are in place: Northbound U.S. 84 in Fairfield, west to Texas 171 in Mexia, north to Interstate 35E. Local traffic turnaround at Farm-to-Market Road 1394 in Richland. Southbound I-35E to Texas 171, Hillsboro to Mexia, then eastbound U.S. 84 to I-45 Fairfield. Local SB cars turn around at Ellis County line.
Corsicana Flooding: Interstate 45 Frontage Road
The remnants of Patricia, which was downgraded to a tropical depression and was expected to reach northern Mexico by Saturday night, were expected to add to the rain falling in South and Central Texas, said Jesse Moore, a National Weather Service forecaster in Fort Worth.
As of Saturday morning, the National Weather Service said 18.07 inches of rain had fallen in Corsicana, 7.4 inches at Dallas/Fort Worth International Airport and 8.02 inches at Dallas Love Field.
The NWS said normal rainfall for DFW in October is 3.2 inches. To date, DFW has received 6.13 inches and is 4.34 inches above normal. For the year, normal through Saturday is 29.86 inches – DFW has currently received 46.64 inches of rain in 2015, putting it 16.78 inches above normal for the year.
Train Overturns When Tracks Washed Away (Raw Video)
A Flood Warning for the Trinity River in Dallas is still in effect until 5:42 p.m. Sunday. According to the United States Geological Survey, the Trinity River rose nearly 20 feet overnight Thursday into Friday from 15 feet to about 34 feet.
A flash flood watch was in effect for the Dallas, Fort Worth, Waco, Austin and San Antonio areas through Sunday morning, according to the National Weather Service. Corpus Christi, Laredo and Brownsville are under a flash flood watch through Sunday night.
Forecasters said Houston and Galveston remain under a flash flood watch through Monday morning, with possible coastal flooding concerns.
Saturday Morning Weather Oct 24, 2015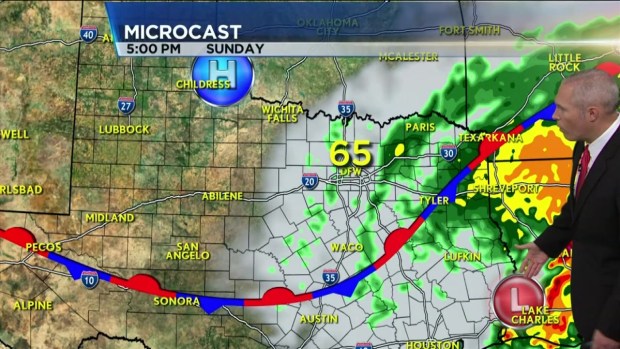 Patricia was the most powerful hurricane on record in the Western Hemisphere and made landfall Friday along Mexico's Pacific Coast as a Category 5 storm. It quickly lost power as it moved inland and appeared to have caused remarkably little damage.
Forecasters predict prolonged heavy rainfall, with flash flooding possible in low-lying areas, small creeks and streams and poor-draining streets and roads. NBC 5 Chief Meteorologist David Finfrock said more than six inches of rain was possible through Saturday.
Navarro County
The National Weather Service issued a Flash Flood Emergency for Navarro County. Between midnight Friday and Saturday morning, Corsicana received more than 18 inches of rain, with more on the way.
Interstate 45 was closed in Corsicana for several hours overnight Friday due to water over the road, and TxDOT crews, in collaboration with the Texas Department of Public Safety, established local and regional detours to assist stranded drivers who were caught in the 12-mile backup.
Drivers Stranded After I-45 Closed Friday
The roadway reopened to traffic early Saturday morning, but just before 11 a.m. the southbound lanes were again closed due to high water, according to Navarro County officials. TxDOT said it will continue to monitor through the weekend.
Also in Corsicana, a Union Pacific train overturned and was partially submerged after the tracks were washed away by high water. The Navarro County Emergency Management Office said high water rescue teams were gearing up shortly before 6 a.m. to rescue two people from the train.
The northbound lanes of Interstate 35 in West were also closed down because of high water. Radar indicates as much as 14 inches of rain had fallen in southwestern Navarro County and southern Hill County.
By late Friday, Dallas/Fort Worth International Airport had recorded 5.8 inches of rain since the storms began Thursday, including 3.24 inches Friday, which set a daily record.
More Than a Foot of Rain Strands Corsicana Drivers
Without power? Text the word "OUT" to 66267. This will connect you to @oncor#dfwwx

— Katy Blakey (@KatyBlakeyNBC5) October 23, 2015
Storms Lead to Power Outages in Tarrant County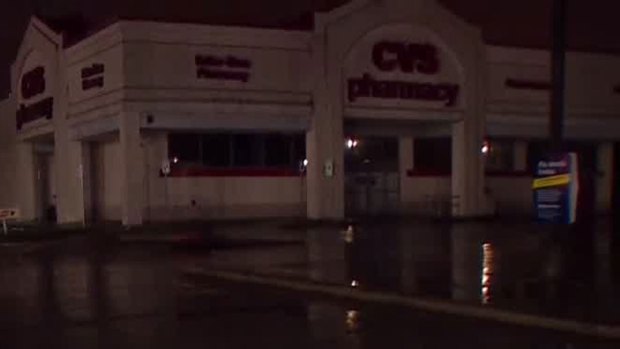 Flight Delays
The storms caused hundreds of cancellations and delays Thursday and Friday at Dallas/Fort Worth International Airport and Dallas Love Field. The numbers below are for Saturday only.
Dallas/Fort Worth International Airport (as of 8:45 p.m., per flightaware.com)

Cancellations outbound/inbound: 29/75
Delays outbound/inbound: 128/172
Dallas Love Field (as of noon, per flightaware.com)

Cancellations outbound/inbound:0/2
Delays outbound/inbound:0/18
Dallas Street Closures (as of 9 p.m. Saturday)
Sargent at Southerland
Frost at Oakland Channel
4700 Hatcher
California Crossing at Luna
Wildwood at California Crossing
Luna at Y
Tantor at X
Inwood at Park
Sylvan Bridge at Trinity River
7400 Merriman Pkwy
West Lather at NW Hwy.
Dallas Crash Report
Dallas police reported the following crash statistics from midnight Friday through 8:30 a.m. Saturday:
Minor accidents – 215
Major accidents – 113
Major Freeway accidents – 147
Minor accidents involving city equipment – 7
Major accidents involving city equipment – 1
Total accidents - 483
Fort Worth Crash Report
Fort Worth police said at 9 a.m. Saturday that over the last 24 hours, they responded to a minimum of 32 high water calls which include rescues and stranded motorists. They also recorded 80 motor vehicle crashes – a 200 percent increase.
Chopper 5 Over Rain-Soaked, Flooded North Texas
Gov. Greg Abbott Activates State Ops Center
Gov. Greg Abbott announced Friday an elevated activation of the Texas State Operations Center (SOC) as severe storms are expected to impact parts of Texas this weekend. Abbott has also approved the use of state resources that have been staged for rapid deployment as needed to assist local officials during this significant weather event. Texans are also encouraged to prepare for severe weather in their area.
NBC 5 staffers and reporters contributed to this report.