The severe weather threat has diminished in North Texas, but additional showers and isolated storms will be possible across the area into Thursday night.
At least 1 to 3 inches of rain fell in parts of the region overnight Wednesday with a few pockets of more than 3 inches of rainfall.
A Flash Flood Watch expired at 10 a.m. Thursday, but drivers are still encouraged to use caution on wet roads and to avoid attempting to drive through flooded areas.
The threat remains for widespread heavy rain and possible localized flooding. Rain totals will range from 1 to 4 inches through Thursday morning. The rain may be slow to clear Thursday, but most showers and storms should taper off.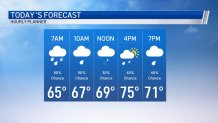 Severe Storms Leave Injuries & Damage
Severe storms Wednesday night prompted a Tornado Warning in northern Tarrant County between 8:10 p.m. and 8:45 p.m. The storm impacted portions of Parker, Tarrant and Denton Counties Wednesday night, leaving a path of hail damage. The largest reported hail size (3.25 in.) occurred in Keller around 8:40 p.m. In addition, hail as large as tennis balls also occurred in the Saginaw-Watauga area, leading to extensive damage to vehicle and home windows. As the storm continued moving to the northeast, hail decreased in size roughly to around 1.5" in the Flower Mound vicinity.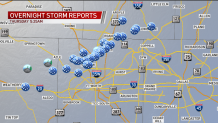 GALLERY: Your Hail Photos – April 28, 2021
In Parker County, some thunderstorm wind damage was reported overnight. Straight line winds caused power line damage and a mobile home to overturn near Azle. Emergency crews reported that they responded to multiple emergency calls over storm damage Wednesday night. Three people were hospitalized after a home near Veal Station Road and Farm-to-Market Road 730 was severely damaged. Three other people in the building were not hurt.
A spokesman for MedStar said first responders were called to at least 20 crashes since storms began, with four people hospitalized.
In the Keller ISD, several school buses were damaged by large hail, leading to some morning bus routes being delayed. The district reported increased traffic congestion in the area due to several traffic lights being down.
More Rain on the Way
Unsettled conditions will persist into the weekend with another round of showers and storms.
The highest chances will be across East Texas. A few storms could become severe Saturday afternoon and evening, so be sure to stay weather aware this weekend. The rain should exit the region by Sunday evening, with a dry forecast early next week.
Watch the video below for the latest forecast from NBC 5's Weather Experts.
Continued Coverage of Severe Weather
---
Weather Links
---
---