Grab your stein, finding a park-ing space, and reunite with your favorite Five this weekend.
THURSDAY, 9/20
Addison Oktoberfest: Beer. Food. Germans. All in Addison. The Oktoberfest runs Thursday through Sunday and features all the things strudle lovers are into; German sausage, sauerkraut, Bavarian folk dances, schuhplattling, oompah music, sing-a-longs, yodels, and drunk people. Gate admission is FREE on Thursday (yahoo!) and local Albertsons are selling discount $5 tickets to get in any time.
FRIDAY, 9/21
PARK(ing) Day: The concrete jungle of Dallas will get a little more green -- and have a little harder time finding a place to park on Friday. PARK(ing) Day has folks claiming a parking spot and transforming it into a little oasis from the typical pavement. Last year, we found parking spaces turned into performance stages, miniature trails, and all sorts of other fun spots to visit. Main and Harwood Streets in Dallas are the primary focus of the event that starts at 11 a.m. Friday. An after-party will be from 6 to 9 p.m. in Thanksgiving Square.
Late Nights at DMA: This is a different kind of "Night at the Museum." With films, music, lectures, and family events, Friday's Late Night sort of has a choose-your-own-adventure style that should please attendees. In fact, one of their later events actually is a "Choose Your Own Adventure" art tour. You'll want to check their website for all the details on the events happening until midnight. Tickets are $10 or less.
SATURDAY, 9/22
Plano Balloon Festival: Ready to see something full of hot air and not related to this year's election? The Plano Balloon Festival runs Friday through Sunday, but Saturday features two launches of the balloons (at 7 a.m. and 6 p.m.) and will have skydivers, custom cars, music, and fireworks throughout the day (and night, natch).
USS Fort Worth Commissioning Watch Party: It's not everyday the Navy names a new ship after your city. Actually, it's never even happened for Fort Worth before. The commissioning of the new USS Fort Worth happens on Saturday, but it's down in Galveston. Luckily, Sundance Square is hosting a watching party from 9:30 a.m. to noon and even simulcasting the ceremony on FortWorthTexas.gov and on Charter Cable Channel 27 beginning at 10 a.m.
The Go-Go's: If you need a vacation, or just want to see if The Go-Go's have still got the beat, head to Billy Bob's on Saturday for a 10:30 p.m. show. We're still head over heels for these lady rockers, but we haven't seen them live, so our lips are sealed on whether their stage show will hold up. Oh, song references, you're a concert writer's best friend.
SUNDAY, 9/23
Ben Folds Five: The reunited (and it feels so good) trio has been blazing a new path since reforming by having fans donate toward the production of a new record. Having successfully completed the album, the Ben Folds Five are now on tour, playing in Dallas at the Palladium Ballroom on Sunday. We talked to Ben Folds a few months ago about the new project's direction and finally asked the question that's been on everyone's minds -- is "Brick" really about construction materials?
War Horse: This weekend is your last chance to see the amazing puppeteers that play the horses in War Horse. Yeah, sure, you're supposed to care about the characters or story or something, but...PUPPET HORSES. If you're not convinced, maybe this video from our lovely Bobbie Wygant can change your mind.
Don't forget, the State Fair is right around the corner! We'll have a whole section full of fried goodness, Fair survival guides, and a whole lot more. The State Fair of Texas starts Sept. 28.
---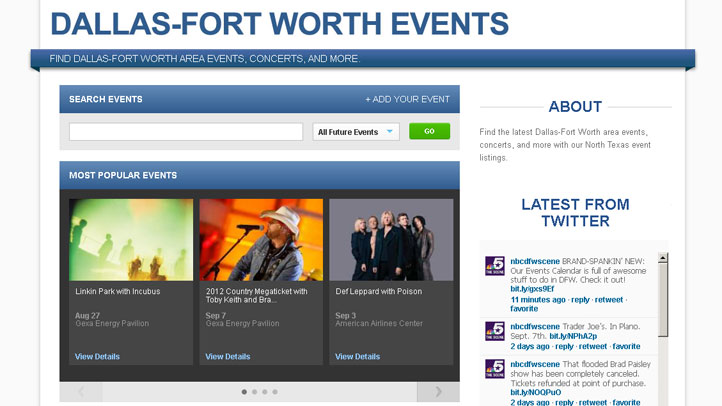 What You're Doing This Weekend:
Find the latest Dallas-Fort Worth area events, concerts, and more with our North Texas event listings. Click here for more.