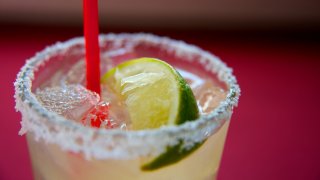 From classic on the rocks to futuristic nitrogen-infused, celebrate 2022′s National Margarita Day in DFW with our go-to guide for all things margaritas.
Beto & Son
Looking to take your margarita experience to the next level? Beto & Son is featuring a futuristic margarita that is made frozen tableside with liquid nitrogen. The "Flora Liquid Nitrogen Margarita" is infused with Blanco tequila with unique ingredients such as butterfly pea flower, which is a beautiful lavender color. This handcrafted cocktail is even topped with edible flowers and encapsulated passion fruit juice caviar.
Beto & Son, 3011 Gulden Lane, Suite #108, Dallas. betoandson.com.
Chuy's
Enjoy National Margarita Day Texas-style at Chuy's. For just $2 extra, make any regular House Rocks or Frozen 'Rita a Grande, and you get to keep the commemorative cup. You can even add a $1 tequila "floater" to top off your favorite Chuy's margarita.
Chuy's, multiple area locations. chuys.com.
El Fenix Mexican Restaurant
Celebrate National Margarita Day at Dallas this Dallas institution. From 4 to 7 p.m., house frozen and on the rocks margaritas will be $4.50.
El Fenix Mexican Restaurant, multiple area locations. elfenix.com.
Click here to check out the rest of the list on where to grab a refreshing drink from our partners at the Dallas Morning News