High school students share responsibility for a monolith that appeared on the Trinity Trail in Fort Worth this week.
Its straight sides appeared similar to one discovered in the Utah desert, one in California and another in Romania at the end of 2020.
"That first one everyone saw, I feel like that could maybe be (the work of) aliens," Christopher Garcia said as he took photos of the monolith in Fort Worth.
But the one that appeared in North Texas had no extraterrestrial ties.
"People associate them with aliens, and hey, Jim Bob got bored in the backyard and decided to build something out of the scrap metal he's got," John Black said. "We had a blast with this."
Black owns a shop called Backwoods AutMoto in Millsap. It's where he said he worked with Millsap High School students over the last four weeks to build the monolith, which is eight-foot-tall. The group was spurred on by a discussion by Hawkeye in the Morning on New Country 96.3 FM.
"When I first heard the word 'monolith' I didn't know what it was, so I looked it up," Kiaa Black said.
"I just think it's pretty cool," Kore Black said.
"I just think people like to experience it," fellow student Matthew Liams added.
The group dropped off their 250-pound creation on Saturday in Fort Worth near Interstate 30 and Beach Street on the Trinity Trail. It's already gaining attention on social media.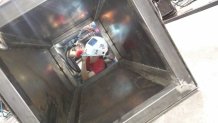 "We just felt like Fort Worth needed a monolith," Hawkeye said.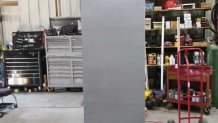 "We just wanted them to have something to get their mind off of everything going on in the world. So, we did this," Black said. "I can almost guarantee there will be another one somewhere in the future."
He said it took about three to four weeks to complete.
NBC 5 reached out to the city of Fort Worth, but they said they were unaware it was there.
NBC 5 also reached out to the Tarrant Regional Water District, as this appears to be their property, but hadn't heard back yet Tuesday afternoon.