Traffic is once again moving along Interstate 20 after a standoff closed the highway in both directions in Southern Dallas Friday morning.
Grand Prairie police confirmed to NBC 5 they tried to stop a driver along I-20 near Great Southwest Parkway at about 9 a.m. after noticing the driver had a blown-out tire and was driving on his wheel rim.
The driver refused to stop and led police on a slow chase before eventually coming to a stop in the inside lane near Willoughby Boulevard, west of Interstate 35E.
Officers said they tried to get the man to exit his car, but he refused. More officers arrived, including SWAT, and both directions of the highway were closed.
SWAT officers used two armored vehicles to pin the car in while they continued talking with the man -- a short time later he exited the vehicle and surrendered.
There were no other occupants in the vehicle.
The driver has been identified as Christopher De La Rosa, of Dallas. De La Rosa is being held in the Grand Prairie Jail and faces charges of evading arrest and driving while intoxicated.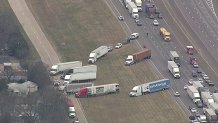 All lanes of westbound I-20 and two lanes of eastbound I-20 were reopened before noon. At the peak, traffic was backed up nearly seven miles during the standoff.