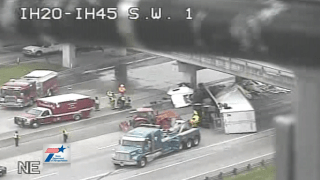 Both directions of Interstate 45 were shut down in southern Dallas due to an overturned tractor-trailer Thursday afternoon.
The crash happened at the intersection of I-45 and Interstate 20, temporarily shutting down all of the north and southbound lanes.
As of 2:30 p.m., on the northbound side, all but the innermost lane has been reopened. By 5:30 p.m. all lanes had reopened to traffic.
The southbound ramp from I-20 to I-45 was also temporarily closed due to the crash.
The cause of the crash is not known and it's not clear if anyone has been injured.