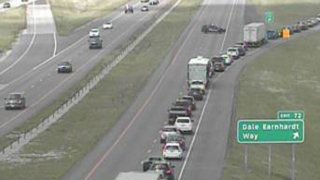 The northbound side of Interstate 35W in Northlake is open again after a closure of about three hours due to an overturned flatbed that spilled debris across the highway, police say.
The crash happened just after 2 p.m. Saturday under the Dale Earhardt Boulevard bridge, just north of Texas Motor Speedway, Northlake police said.
Police said northbound traffic was forced to exit I-35W at Dale Earnhardt Way.
Traffic
Covering traffic news that could affect your commute.
A flatbed hauling construction debris drove onto a grassy area under the bridge, police said. The driver then overcorrected, flipping the truck and spilling debris, nails and more across the highway.
The highway was open again by 5:40 p.m.
No injuries were reported.