A fully loaded fuel tanker was left partially hanging off a West Dallas overpass Tuesday morning after crashing into an SUV, closing the highway for several hours, police say.
First responders were called at about 2:45 a.m. to the southbound lanes of Loop 12-North Walton Walker Boulevard, near the Dallas-Irving border.
The crash involved a fuel tanker and an SUV, police said. Video from the scene showed the cab of the big rig partially hanging off the bridge over the West Fork of the Trinity River.
One person was taken to a nearby hospital, police said, though the extent of their injuries was not immediately known.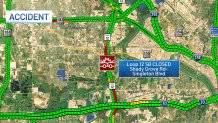 A Dallas police dispatcher confirmed the tanker was full of fuel and will need to be emptied before being removed from its position on the bridge barrier wall.
All southbound lanes were closed at East Shady Grove Road. The freeway was reopened shortly before 9 a.m.
Traffic
Covering traffic news that could affect your commute.
It's not yet clear what caused the collision.