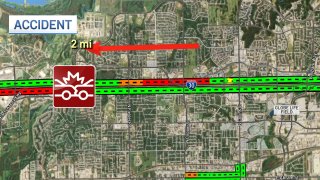 Interstate 30 was closed for several hours in Arlington early Thursday morning following a chain-reaction crash that killed a 19-year-old man.
Arlington police said the driver of a Honda Element apparently had mechanical trouble and the vehicle stopped in the center westbound lane of the highway at about 3:56 a.m.
A chain-reaction crash then occurred where the Element was hit from behind by a Hyundai Sonata which was hit from behind by a Harley Davidson motorcycle.
Police said after that series of collisions the driver of the Element, identified as Adrian Agusti Arbaiza Andrade, of Plano, got out of his vehicle and was standing in the roadway. Police said the driver of a Ford F-150 then happened upon the scene and crashed into the Element which then struck Andrade.
Police said Andrade was pronounced deceased at the scene. Three passengers inside the Element were hospitalized with injuries that were not considered life-threatening.
The drivers of the other vehicles involved in the crashes suffered minor injuries but were not hospitalized.
No criminal charges have been filed against any of the drivers involved in the crashes.
The westbound lanes of I-30 were closed for approximately four hours while crews worked to investigate and clear the scene.