Forget Facebook and Twitter, take on something more challenging, adrenaline rushing, and addicting -- Chatroulette.com.
Invented by a 17 year-old Russian coder Andrey Ternovskiy only three months ago, the site has exploded with an average of 30,000 to 20,000 visitors at a time.
Some call it a game, speed dating website, or a social networking site, but Chatroulette can be considered all of the above and more. The concept is simple -- you instantly video chat with a random person from anyplace in the world. That means you can see them and communicate with them just by pushing one button.
The beauty of this site is its simplicity. You don't need a username and password. There is only one page, where you are greeted with two black boxes, a blank white page to type conversation, and three important buttons on top -- play, next, and report. When you first enter the site you are asked to allow access to your camera and mic, and you start by clicking play. Once you click that play button, you are instantly taken into the living rooms, studies, bedrooms, and dorm rooms of mostly young adults across the world.
Chat rooms and other social media outlets have been criticized in the past for how they diminish face-to-face interpersonal skills, but Chatroulette takes chat rooms to the next level. You are literally forced face to face with a total stranger, and forced to make conversation.
The saving function for those of you who don't know what to say to the person staring at you across the screen -- or for when you get paired with a freaky guy who asks you to take your clothes off -- is the next button. The next button allows you to change people immediately once you view them on screen.
The random choice of chatters leads to one downfall of the site -- you might come across the occasional nudity and profanity. If this happens, the "report" button makes letting the Chatroulette team know of an inappropriate issue easy.
We should warn parents, that this site is not meant for your children. Before you start to play Chatroulette, the site does mention that you should be at least 16 to enter and that the site does not tolerate any kind of pornographic or obscene material.
We bravely adventured onto the site to see what we would encounter and to ask other Chatrouletters what brought them to this world of cyberspace roulette socializing. We came across a variety of characters, from normal college students in their dorm rooms bored, Al Gore, and even a crocodile -- seriously.
We enjoyed a game of Disney Trivial Pursuit until we got "nexted" for getting too many answers correct.
A young surfer in Australia chatted with us and told us he met world famous model Meghan Collison and aspiring comedian Michael Rockstar. He even showed us his backyard, so we could have a glimpse of his native country.
A lonely Alabama student told us he was visiting the site because he didn't want to go out on a Friday night, and wanted more company than his dog, whom we also had the pleasure of meeting.
We chatted for a really long time (30 minutes is considered a very long chat time in roulette minutes) with a Hockey player from Middlebury College in Vermont from his dorm room. He told us he wore his party sunglasses and downed beer to get in the "Chatroulette mood." We personally think he was just scared to show us his face behind his invincibility glasses.
If you want to practice your foreign languages, Chatroulette is the place to do it. We found ourselves asking "Are you American?" as one of our first questions to new strangers. We really got to practice our Spanish on several Chileans we encountered. The site must be more popular in the Andes for some reason. But we also got to help a group of Chinese students who asked us for help on an English essay.
As expected, we had bizarre interactions as well. We ran into a man wearing an Al Gore mask who told us he was just seeing how many people would stay and chat with him once they saw beyond the mask. We also had the pleasure of meeting crocodile man, who, when asked for his name, told us he wasn't human and that he was just known as "Crocodile."
The most moving group we came across was a group of soldiers based somewhere in Iraq. They said we were the first American faces they've seen in 6 months outside the base. A group of about ten men crowded around one soldier's computer, as they excitedly asked questions about home and told us they had just discovered the site. They said they were excited to finally have found a place that makes them feel like they are at home again and an outlet that lets them forget the reality they face daily. After a ten minute chat they said it their time was up. We thanked them for their service, and but they said they couldn't tell us any more information about what they do.
This is when we realized chat roulette may not be that bad after all. Yes, you do come across some wacky characters and the occasionally nudity, but for a brief couple of minutes you get a glimpse into someone else"s life that might be across the world or your next door neighbor.
Most of the people we talked to on the site said they were on the site for the first time and were checking out what all the fuss was about. When we asked one group, if they were going to come back to the site, they told us, "As long as we don't see anymore nudity, we are addicted."
---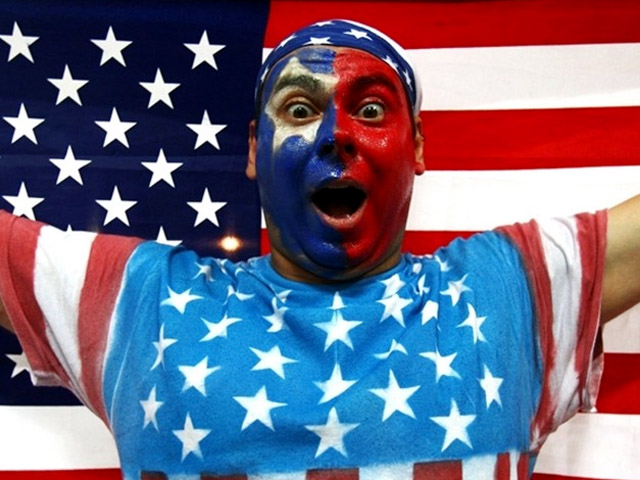 It's snow joke: The Vancouver Winter Games are here!Check out NBCDFW's full coverage, complete with amazing photo galleries, and more! Fan us on Facebook and on Twitter