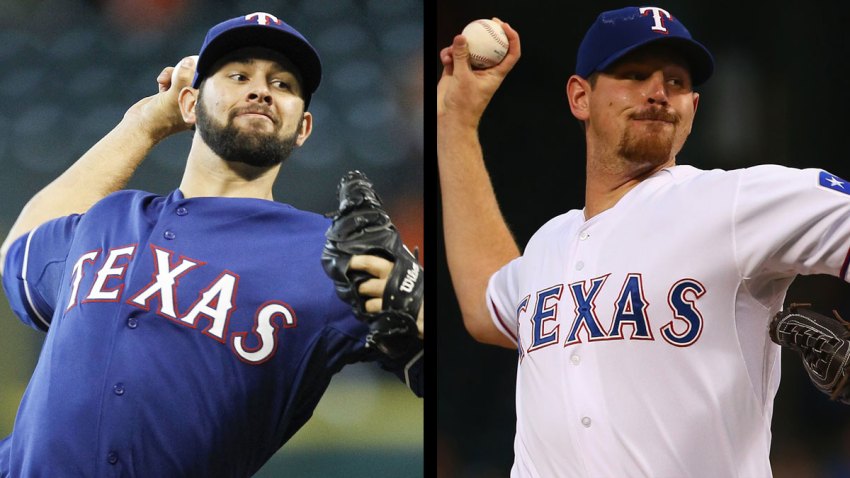 Dan Szymborski's ZiPS projections are a good measure of what to expect from players in the upcoming baseball season. We'll take a look at the Rangers' projections on a position-by-position basis. Szymborski can be found on Twitter at @DSzymborski.
Today we'll look at the projections for the Rangers in the No. 5 starting pitcher role, which could be one of several young pitchers competing for one spot. The acquisition of Yovani Gallardo pushed Colby Lewis back to the fourth spot, meaning there is just one spot, not two, that is uncertain, which is a big boost to the overall quality of the Rangers' staff.
We'll take a look at four possibilities for the No. 5 spot, in order of probability, at least in my humble opinion.
Sports Connection
Connecting you to your favorite North Texas sports teams as well as sports news around the globe.
1. Nick Tepesch: 25 starts, 138 1/3 innings, 4.62 ERA, 5.34 K/9 IP, 82 strikeouts, 42 walks, 17 home runs allowed
2. Anthony Ranaudo: 24 starts, 124 2/3 innings, 4.84 ERA, 5.92 K/9 IP, 82 strikeouts, 51 walks, 18 home runs allowed
3. Nick Martinez: 24 starts, 136 1/3 innings, 4.95 ERA, 5.41 K/9 IP, 82 strikeouts, 56 walks, 17 home runs allowed
4. Ross Detwiler: 10 starts, 22 relief appearances, 85 1/3 innings, 4.32 ERA, 5.80 K/9 IP, 55 strikeouts, 26 walks, 9 home runs allowed
The thought is that, even though he wants to start, Detwiler will almost certainly be in the bullpen, especially now that Robbie Ross is in Boston and the Rangers have two lefty relievers with any big-league experience and one of them is Michael Kirkman. Tepesch is the most proven of this bunch, but Ranaudo is interesting because the Rangers traded Ross to Boston to get him, specifically because they see him as a guy who could step into the back of a rotation and be solid. Martinez showed reason to like him last season, but he also showed to be pitching far above where he should've been, which was probably Double-A. He could benefit greatly from spending a season in the minors and pitching every fifth day against hitters he can gain some confidence against.
Copyright FREEL - NBC Local Media