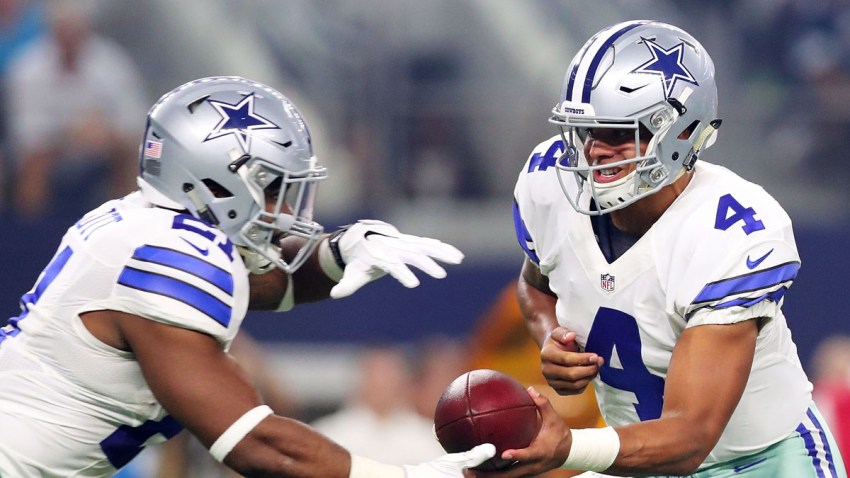 After a disastrous 2015 season, the Dallas Cowboys have ridden two 2016 draft picks and rebounded to be a legitimate Super Bowl contender.
The Cowboys success has mainly been due to their offense, which ranks fourth in the NFL in yards per game (409.9) and tied for third in yards per play (6.1). Both numbers are way up from 2015 thanks to the play of two prolific rookies.
Running back Ezekiel Elliott looks to have replaced the production of DeMarco Murray and quarterback Dak Prescott has filled in admirably for injured Tony Romo en route to an NFC-best 6-1 record after seven weeks.
Sports Connection
Connecting you to your favorite North Texas sports teams as well as sports news around the globe.
But where do Elliott and Prescott rank among the best rookie seasons in Cowboys history?
Calvin Hill - 1969
The Cowboys drafted Hill out of Yale as an athlete in 1969, the first time an NFL team used a first-round pick on an Ivy League player. Hill switched from tight end and linebacker to running back in the preseason game and didn't look back. He was named the Offensive Rookie of the Year and first-team All-Pro after rushing for 942 yards and 8 touchdowns despite breaking his foot during the season.
Tony Dorsett - 1977
The Cowboys picked Dorsett second overall in the 1977 draft after he led Pittsburgh to a national championship, set the NCAA career rushing record and won pretty much every award possible. In his rookie year, he rushed for 1007 yards and added 273 receiving yards and 13 touchdowns. He stepped up his play in the postseason, as his 222 yards and 4 touchdowns propelled the Cowboys to their second Super Bowl victory.
Everson Walls - 1981
Walls went undrafted free agent out of Grambling State in 1981, likely due to the 4.72 40-yard dash he ran during pre-draft workouts. The Cowboys gave the Richardson native a shot, though, and he worked his way into a starting role five games into his rookie year. He finished the season with an NFL-best 11 interceptions and was invited to the Pro Bowl.
Dak Prescott - 2016
After missing out on their top quarterback targets in the 2016 NFL Draft, Paxton Lynch and Connor Cook, the Cowboys "settled" on Mississippi State's Dak Prescott in the fourth round. He's rewarded them with a solid seven weeks where he's ranked fifth in the NFL in yards per attempt (8.0) while — most importantly — throwing only two interceptions in 221 attempts.
Zeke Elliott - 2016
Many questioned the Cowboys use of the fourth overall pick in the 2016 draft on a running back, but Elliott is doing his best to justify the pick. Through his first seven games, "Zeke" is leading the league in rushing with 799 yards and has added 5 touchdowns and 150 receiving yards. He's on pace for 1,826 rushing yards on the season, which would break Eric Dickerson's rookie record. [[399613201,C]]