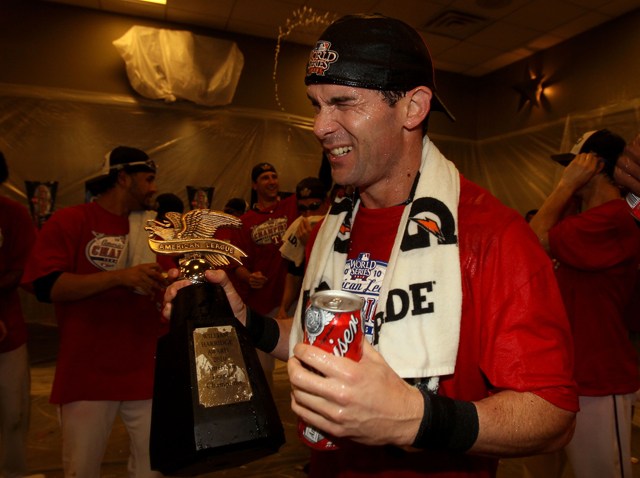 Michael Young was in his final year with the Rangers the same year Josh Hamilton was in his. They both played their final games (at least at that point) as a Ranger in that disastrous Wild Card Game loss to Baltimore to cap off a bad collapse in September.
And a lot of that collapse had to do with the poor play of Hamilton, who had won the AL MVP just two years before and had hit four home runs in one game earlier that season against that same Baltimore team.
In that Game 163, though, Hamilton went 0-for-4, famously flailing at pitches no matter the location and was drowned in boos on his way out and called a quitter, both for that performance and the one a few days earlier when he infamously dropped a fly ball against Oakland and then leisurely jogged after it while runs were scoring, drawing the ire of then-manager Ron Washington.
Sports Connection
Connecting you to your favorite North Texas sports teams as well as sports news around the globe.
On Monday, Young spoke with 105.3 FM about Hamilton's pending return to Texas and what he remembers from that bad stretch.
"First it's pretty interesting to throw out there if you don't know for sure, to sit there and suggest a guy quit, especially when you're talking about a dropped ball," said Young, who now works as a special assistant to GM Jon Daniels. "That's a physical error, that doesn't mean a guy quit. There were mistakes that entire season, that entire series. The Wild Card Game is interesting. People seem to suggest Josh quit because he saw a certain amount of pitches because that led him to get an out quickly for an 0 for 4.
"Well that's who Josh is. When Josh was here he was basically a left-handed version of (Vladimir Guerrero). Josh was aggressive. Josh was very instinctive. If he saw something there he went after it. That was the same approach that led to him have a four homer game and hit a first-pitch homer in the 10 inning of a World Series game. … Quit is something I don't toss out there unless I'm absolutely certain and know Josh didn't quit on us. If that did happen I wouldn't have been completely back on board with Josh coming back here, which I am."
So there you go. Michael Young is a proponent of Hamilton's return. How about you?
Copyright FREEL - NBC Local Media