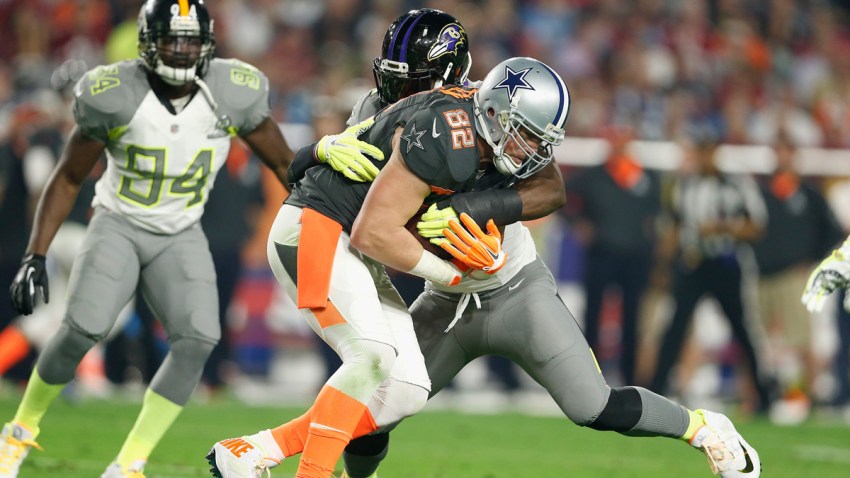 I long ago burned out on Fantasy Football. I can't wrap my little brain around the FanDuelDraftKings craze. And I've wasted lots of time and a little money on not finishing first in those Eliminator Pools. But, alas, like of fans, I do like to have a little extra interest in Cowboys games. So let's do this: I just robbed an imaginary bank and pocketed a virtual $1,000. What better way to spend it than on some mythical wagering.
I'll start with my $1k bankroll and each week – usually on Thursday or Friday – I'll analyze the upcoming Cowboys game and make a wager. With any luck, come 2016 it'll be iPhone upgrades for everyone. Or maybe not. Do I think we'll win? You betcha!
Disposable income!
Sports Connection
Connecting you to your favorite North Texas sports teams as well as sports news around the globe.
After going 5-0 the last five weeks – including last Sunday's easy cover by the Panthers over the Cardinals – and a season profit of over $3,000 since way back in September, we've got what we call play money. Throwin' around money. Disposable, um, income.
With only two games left in the football season, let's make the most of it.
Admittedly, a sane person would never wager on an exhibition game like the NFL Pro Bowl. But $3,010 of profit makes a man crazy. Crazy happy.
So let's make it interesting.
Gone is the NFC-AFC format, replaced by Team Jerry Rice vs. Team Michael Irvin Sunday in Hawaii. Of course this game is a sham, but so is Powerball.
Players from the Super Bowl teams Carolina and Denver are not in the game, obviously, and it's ridiculous to think anyone there cares about anything other than staying healthy and getting some beach time. But …
When in doubt, I'll go with teammates. And the best duo in this game will be Giants' quarterback Eli Manning and receiver Odell Beckham. Practice or not, these two – who hooked up for 13 touchdowns in the regular season – are sure to be on the same page against a Team Irvin secondary that will likely have zero chemistry.
Give me the teammates, and the points.
Team Rice 38, Team Irvin 35.
STARTING BANKROLL: $1,000
CURRENT BANKROLL: $4,010
SEASON RECORD: 12-8
LAST WEEK: 1-0, +1,000
THIS WEEK: Team Rice plus+2 over Team Irvin, $10
A native Texan who was born in Duncanville and graduated from UT-Arlington, Richie Whitt has been a mainstay in the Metroplex media since 1986. He's held prominent roles on all media platforms including newspaper (Fort Worth Star-Telegram, Dallas Observer), radio (105.3 The Fan) and TV (co-host on TXA 21 and numerous guest appearances, including NBC 5). He lives in McKinney with his wife, Sybil, and two very spoiled dogs.
Copyright FREEL - NBC Local Media