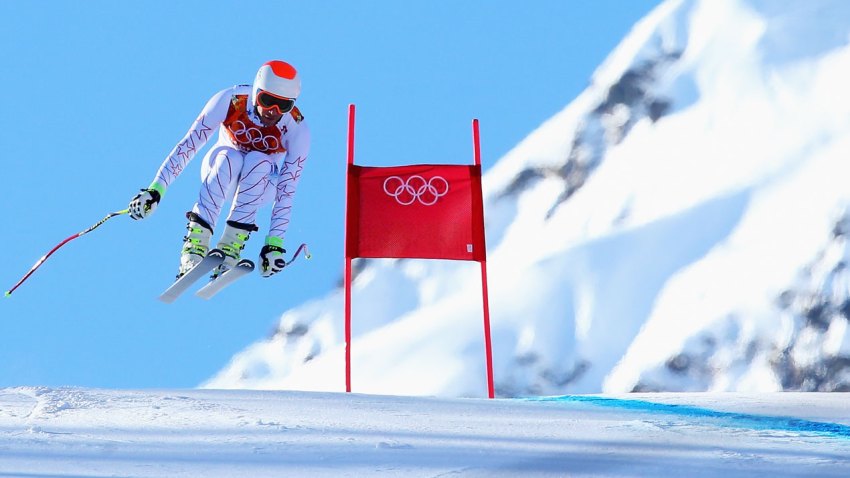 Sunday's Sochi action begins at the Rosa Khutor Extreme Park where American Bode Miller will go for his 6th Olympic medal, while the ladies of the U.S. snowboarding team attempt to match teammate Sage Kotsenburg's slopestyle gold.
U.S. figure skaters will get their last attempts to prove themselves in the team contest before the first medal ceremony of the event later Sunday.
Medals also go out in four other events, including men's luge and ski jumping. Scroll down for a complete listing of events, and information on how to watch on TV and online.
Sports Connection
Connecting you to your favorite North Texas sports teams as well as sports news around the globe.
1 a.m. ET: If you missed Saturday's slopestyle, moguls or figure skating action, catch replays on NBC at 1 a.m. ET or anytime, here.
1:30 a.m.: Snowboarders Ty Walker and Jessika Jenson have two more chances to make it into the final round of competition. Walker, one of the team's rising stars, has been resting injuries since Monday. She participated in Thursday's qualifying event — simply coasting down the course just for credit — and is banking on feeling well enough Sunday morning to give it her all. Watch the semi-finals live on NBCOlympics.com.
2 a.m.: This time it counts for skier Bode Miller, whose 2 minute 6.09 training time fueled high expectations for the vet. His toughest rivals will be Aksel Lund Svindal of Norway, and Italians Peter Fill and Werner Heel. Watch live here, or catch it at 7 p.m. ET on NBC.
3 a.m.: Women's hockey continues with Sweden taking on Japan in the preliminary round of the Games. Watch live on NBCOlympics.com or on NBC Sports.
4:15 a.m.: Back in the mountains above Sochi, women's snowboarders will compete in the slopestyle finals. American Jamie Anderson earned a direct ticket to the medal round with a top score at Thursday's qualifiers and could bring home a slopestyle gold. She will be joined by teammate Karly Shorr. Watch live online or at 7 p.m. ET on NBC.
5:00 a.m.: Men's cross-country skiers compete in their first medal event — the 15k classic. Watch it live at NBCOlympics.com or on NBC Sports, which will also broadcast the first women's speed skating event of the Games — the 3000m sprint which the Czech, Dutch and Germans are likely to dominate. To watch that online, click here at 6:30 a.m. ET.

8:00 a.m.: Russia takes on Germany in the fourth preliminary game in women's hockey. Watch live online or on MSNBC.
9:30 a.m. NBC Sports and NBCOlympics.com will have live coverage of the men's luge finals where Italian Armin Zoggeler will go for his record 6th consecutive Olympic gold. He'll face challenges from Germany's Felix Lah and Albert Demtschenko, who will have the home track advantage. Meanwhile, the women go for the gold in the 7.5km biathlon sprint.
10 a.m.: The first figure skating Olympic medal of the Sochi Games is awarded Sunday morning. America improved its standings after Saturday's event, and will introduce, for the first time, U.S. darling Gracie Gold and Jason Brown, a newcomer who became a sudden YouTube sensation after his firecracker performance at the U.S. Championships. Russia remains far ahead and appears destined for a gold.
Brown is up first at 10, followed by Gold at 11:05 and ice dance pair Meryl Davis and Charlie White at 12:10 p.m. Watch it live on NBC Sports and NBCOlympics.com. Or wait until 7 p.m. and catch it on NBC.
12:30 p.m.: The first medals are also given out in men's ski jumping where the competition will take place under the lights of the RusSki Gorki Jumping Center. Two Americans qualified — Nick Alexander and Peter Prenette — though they're not expected to see the podium. Watch live here or on NBC Sports.
2 p.m. NBC brings highlights from figure skating, biathlon, speed skating and cross-country skiing.
7 p.m. NBC gives viewers another chance to catch skiing, snowboarding, figure skating and ski jumping.