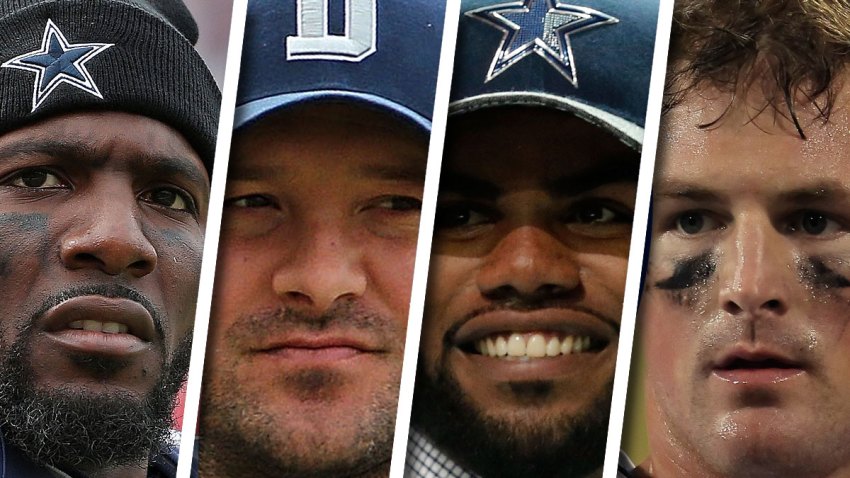 If you play fantasy football, by now you've had your draft.
Are you like me and most fantasy football players who think they had the best draft ever? Well, I hope you're right.
If you took a few Dallas Cowboys, here's some fantasy football production you can expect from the boys in blue.
Sports Connection
Connecting you to your favorite North Texas sports teams as well as sports news around the globe.
Dak Prescott: Let's assume he plays half the season — eight games — because Tony Romo is coming back at some point. I expect Prescott to get off to a hot start and then cool off as defensive coordinators make adjustments once they have enough tape to find tendencies. The Cowboys have a different set of plays just for Prescott simply because of his running ability. You'll see some zone read with Ezekiel Elliott sprinkled in to the team's traditional Romo-friendly attack. Prescott has weapons, and those weapons feel the extra pressure to perform knowing a rookie is behind center. The Cowboys defense is a major weak spot, so the offense will need to put up points.
Predicted 2016 stat line: 2,200 passing yards, 13 passing TD, 9 INT, 270 rushing yards, 1 TD.
Tony Romo: I really hope the Cowboys make sure No. 9 is completely healthy before letting him play. Rushing Romo back would be a huge risk for his long-term health. Again, let's assume he starts right games. The presence of Zeke and a healthy Dez will give Romo the opportunity to run an offense that looks a lot like the 2014 version. The veteran quarterback was arguably at his best that season because the fate of each game wasn't solely placed on his right arm. This offseason, Romo said he's throwing the ball better than ever. If that's true and he's healthy, there's no reason Romo can't be a top 10 quarterback during the final eight games of the season.
Predicted 2016 stat line: 2,700 passing yards, 22 passing TD, 13 INT.
Ezekiel Elliott: Zeke is a stud. You saw it in college at Ohio State and I've seen it for the last few months at practice. He's as good as advertised and can literally do it all; run, catch, block and he has a nose for the end zone. The Cowboys will lean on Zeke and the offensive line heavily while Prescott plays for the injured Romo. No. 21 will be a 3-down back for the Cowboys, and will rarely leave the field. Even if the Cowboys are down big and are forced to abandon the running game, Zeke will still be productive in the passing game.
Predicted 2016 stat line: 1,280 rushing yards, 12 rushing TD, 45 receptions, 390 receiving yards, 2 receiving TD.
Dez Bryant: He's healthy and as talented as any wide receiver in the NFL. His chemistry with Romo is special and didn't happen overnight. For that reason, I'm slightly concerned about Bryant's production. However, I think he's more mature and motivated which could make up for the limited time he's worked with Prescott. Romo and Dez where especially good with back shoulder throws and fades near the goal line. I doubt Prescott will step right in and execute those throws, but he did toss a few to Dez during the preseason opener in Los Angeles that were caught. I also think Zeke will take away from Bryant's red zone touchdown opportunities because the running back is so good at finding the end zone. All of this sounds pretty negative, but Bryant is still going to have an outstanding season if he stays healthy.
Predicted 2016 stat line: 91 receptions, 1,330 yards, 11 TD.
Jason Witten: He is the model of consistency. He's one of the best humans you'll ever meet and one of the best tight ends. He hasn't lost a step and is nearing the end of a Hall of Fame career. Witten rarely leaves the field because he's an important asset to the running game and passing game. Much like with Romo, Witten will be Prescott's bail out receiving option. I don't see No. 82's production changing from one quarterback to another in this offense.
Predicted 2016 stat line: 82 receptions, 820 yards, 8 TD.
Terrance Williams is probably not worth a roster spot. This is his fourth year and he'll be a free agent after the 2016 season. So, there's a lot on the line and plenty of motivation if he wants a new contract. He has talked openly during training camp that he hasn't been the receiver he wants to be. He says he can't keep talking about it and the production needs to happen on the field. Williams had a chance to be a No. 1 wide receiver in 2015 when Dez Bryant missed nearly the entire season, and No. 83 seemingly did less in that role.
Cole Beasley is a nice slot receiver for this offense, but not for a fantasy football team. He'll have games that make him worthy of a roster spot, and then others where he catches a ball or two.
Dan Bailey is the man and should be on a roster in every league.
It's the exact opposite for the Cowboys defense, a unit that tied a NFL record for the fewest turnovers in a season in 2015. They forced 11 turnovers last season. That number should go up, but not significantly.