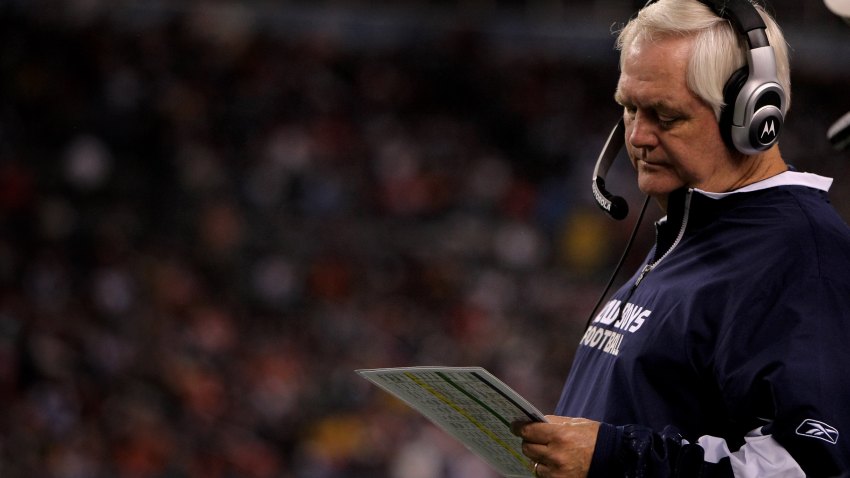 Bottom line, Wade Phillips had to go. The Packers dismantled the Cowboys on NBC's Sunday Night Football 45-7, making it the last embarrassment the club could take in the Phillips era.

Wade basically asked Cowboys owner, Jerry Jones to fire him two weeks ago after the last place Jacksonville Jaguars came to Cowboys Stadium and laid a 35-17 spanking on them and offered up this admission of failure, "I'm distraught, to say the least. I've got talented players and I'm not getting them to play well enough. To me, that's the root of the problem."

Once Wade said that, he should have been fired. If he couldn't get the team to play for him he had no business being the head coach.

But Jones admitted at his press conference today, "I was in a lot of denial... at least for the last couple of games."

Jerry told me Friday on 105.3 The Fan during his weekly radio show Phillips would be his head coach the rest of the season. He changed his mind after the loss to the Packers.

Green Bay's quarterback Aaron Rodgers had 40 yards of rushing while the Cowboys mustered up just 39 yards as a team.

Jason Garrett has been a beloved figure by Jones for a number of years and was promoted from offensive coordinator to interim head coach.

Jones declared the Cowboys full time job is there for Garrett, who is referred to as The Red Headed Genius by some local media, to win if he can impress and change to the losing culture over the teams final eight games.

Phillips must take a majority of the blame for his own demise. Fans just didn't see the Cowboy playing with any passion. Missed tackles, penalties, and a lack of discipline lead to the dimise of Phillips who had a record of 35-23 in four years.

In a statement, the 63-year old offered the follow:


"I am disappointed in the results of this season to this point, but I am also very proud of what our team and our players accomplished in the previous three years. In good times and difficult times, our players stuck together and never lost hold of their belief in each other and the strong team bond that they have shared. Family and coaching football have always defined my life and I will always be grateful for my experiences here with the Dallas Cowboys."