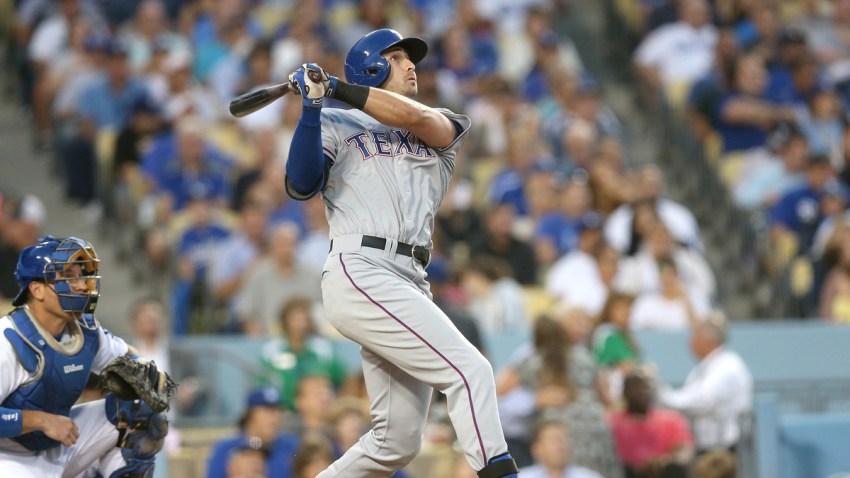 When Joey Gallo made his smashing debut against the Chicago White Sox back on June 2, it gave Rangers fans reason to salivate at the thought of having the slugging prospect in the lineup for years to come.
Even though we knew it was temporary with Adrian Beltre on the shelf, it was still phenomenal to watch as he blasted a home run and doubled to drive in five runs in his big-league debut.
After that, of course, it all went downhill (as if it could've gone up), but it was really, really bad. It wasn't unexpected, given Gallo's known strike zone discipline problems in the minors, but it was still bad.
Sports Connection
Connecting you to your favorite North Texas sports teams as well as sports news around the globe.
Don't take this as a huge indictment on Gallo. He's obviously a special talent with prodigious power. But what exactly are the Rangers' plans for him now?
That question must be asked more now that the Rangers are trying to extend veteran Adrian Beltre, as they should. Beltre's deal runs out after the upcoming season, and they want him to be a Ranger until the day he decides to retire, as they should.
That means Gallo is blocked at his most natural position (third base) even longer now. It also seems he might've been passed in the Rangers' eyes by fellow phenom Nomar Mazara. Could they look to trade Gallo? Most likely not, but I& wouldn't say he's absolutely untouchable. No one should be. The Rangers learned that the hard way with Jurickson Profar.
If the Rangers could get a No. 1 pitcher who's controllable, such as Sonny Gray or Chris Sale, you can bet the Rangers would be willing to throw Gallo into a deal. The chances of a team giving up a guy like Gray or Sale aren't good, so until that happens, don't bet on Gallo being dealt, but don't completely rule out the idea either.
Copyright FREEL - NBC Local Media