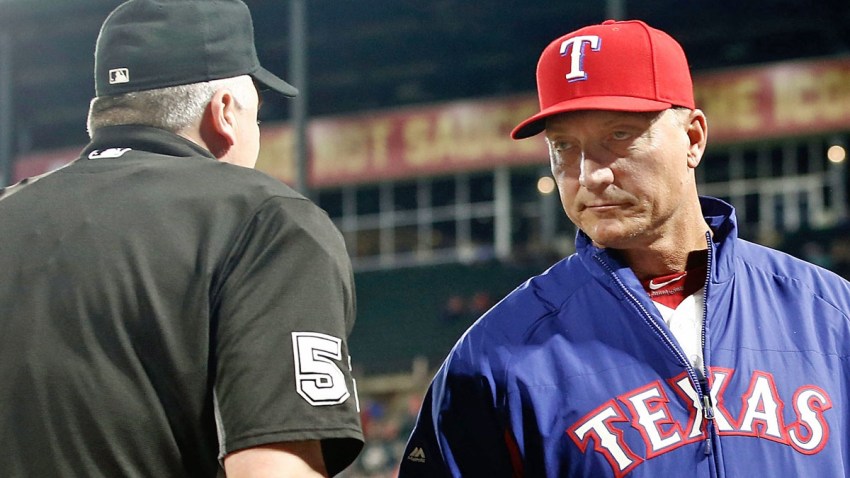 I'm weird. Cynical. At times, yes, extremely annoying.
But I'm not going crazy.
What I thought I saw Sunday I noticed again last night. It wasn't more bad base-running by the Rangers. Or another pristine pitching performance wasted. Or a gut-wrenching loss in Toronto.
Sports Connection
Connecting you to your favorite North Texas sports teams as well as sports news around the globe.
It's, um, manager Jeff Banister's cap. It's – how shall I say this – crooked?
Not gotch-eyed in the fashion of reliever Fernando Rodney or anything. Not in the way he wears it. It's the bold Texas "T" on Banister's blue cap. It's misaligned. Askew. Down right wonky. If you're looking at him, it leans to the right. It's way noticeable. At least to me.
And, apparently, others.
After I tweeted the observation Sunday a couple of followers agreed with me. One guy even told me there are "a lot" of caps in the Rangers' pro shop that also feature the crooked T. I thought nothing of it. But there it was again last night, the manager of a Major League Baseball team wearing a cap that looks like it was hurriedly stitched together and sold out a dime store.
What gives?
I mean, how has no one pointed this out to Banister? Is it a glitch from the factory? Or, maybe he custom-ordered it that way? Could it be a subtle superstition?
Don't know if his red cap is the same, but I'll be on the lookout now.
There are obviously bigger problems in this world and on this team. But I dare you to watch Banister's next interview and not be totally distracted by his quirky blue cap.
A native Texan who was born in Duncanville and graduated from UT-Arlington, Richie Whitt has been a mainstay in the Metroplex media since 1986. He's held prominent roles on all media platforms including newspaper (Fort Worth Star-Telegram, Dallas Observer), radio (105.3 The Fan) and TV (co-host on TXA 21 and numerous guest appearances, including NBC 5). He lives in McKinney with his wife, Sybil, and two very spoiled dogs.
Copyright FREEL - NBC Local Media