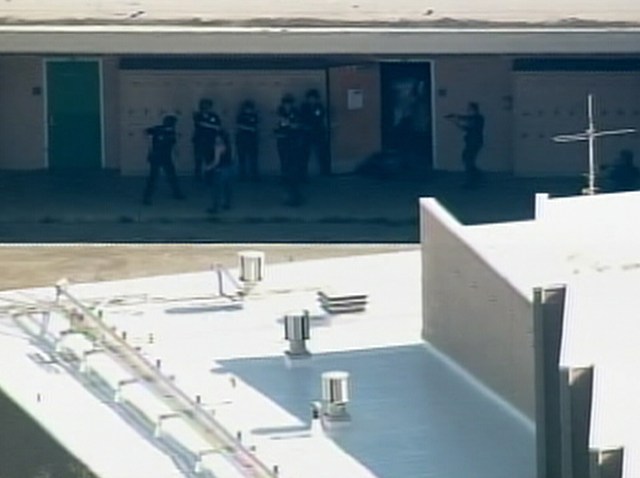 Suddenly, they are America's (Heart-break) Team.
The Cowboys have lost 23 games under head coach Jason Garrett. More than half of those – 14 – have been by a field goal or less, in overtime, or been decided in the game's final minute.
You think we'd be numb to soul-scorching losses like last Sunday in Detroit, where the Cowboys blew two 10-point leads in the fourth quarter, committed a suicidal penalty in the final 90 seconds and allowed an 80-yard scoring drive to lose, 31-30. But nope, it still stings. And the cumulative effect has fans again convinced this team is nothing more than a mediocre outfit that will tease us with enticing foreplay but yank the covers back and fall out of bed before the satisfying climax to a playoff season.
Sports Connection
Connecting you to your favorite North Texas sports teams as well as sports news around the globe.
The loss to the Lions wasn't the worst loss in the Garrett Era. Only the latest.
10. 10.2.11 Lions 34, at Cowboys 30 – Dallas blows a 27-3 lead as Tony Romo throws 2 3rd-quarter interceptions for touchdowns and Calvin Johnson catches a clinching touchdown with 1:39 remaining.
9. 12.25.10 at Cardinals 27, Cowboys 26 – After Dallas produces a Christmas comeback from 18 down to take a 2-point lead on a late Miles Austin touchdown, David Buehler misses the extra point. The Cardinals convert a 4th-and-15 and then celebrate when Jay Feely's 49-yard field goal crawls over the crossbar on the game's final play.
8. 12.11.11 Giants 37, at Cowboys 34 – Dallas leads 34-22 with 5:41 remaining, but gives up 2 late TDs and loses when Dan Bailey's 47-yard game-tying field goal is blocked on the game's final play.
7. 10.16.11 at Patriots 20, Cowboys 16 – After settling for field goals on 2 drives inside New England's 10 in the 4th quarter, Dallas watches Tom Brady cap an 80-yard drive with an 8-yard touchdown pass to Aaron Hernandez with 22 seconds left.
6. 9.11.11 at Jets 27, Cowboys 24 – Dallas leads by 14 in the 4th quarter but coughs up a blocked punt for a touchdown, a Romo fumble inside New York's 10 and eventually loses on former teammate Nick Folk's 50-yard field goal with 24 seconds remaining.
5. 10.14.12 at Ravens 31, Cowboys 29 – After dominating the game and recovering an onside kick for late life, Dallas loses when it inexplicably allows 16 seconds to run off clock after a pass play and then watches Bailey float a game-winning 51-yard field goal wide left. It's the first loss in franchise history when the Cowboys run the ball 42+ times (89-1).
4. 11.25.10 Saints 30, at Cowboys 27 – Leading by 4 points in the final 2 minutes on Thanksgiving receiver Roy Williams fumbles at New Orleans' 11 after a long catch-and-run, setting up a Saints' late touchdown that holds up when kicker David Buehler's game-tying 53-yard field goal sails wide left.
3. 10.6.13 Broncos 51, Cowboys 48 – Romo throws for 506 yards, but his interception near the 2-minute warning helps the Broncos score the game's final 10 points and win on a last-second field goal.
2. 10.27.13 Lions 31, Cowboys 30 – Two 10-point leads in the 4th quarter wasted as Tyron Smith commits a holding penalty that saves 40 seconds for the Lions, setting up a game-winning, gut-wrenching 80-yard scoring drive with :12 remaining.
1. 12.4.11 at Cardinals 19, Cowboys 13 – Dan Bailey makes an apparent game-winning field goal from 49 yards, only to find out the Cowboys called a timeout because coach Jason Garrett wanted to ensure a "smooth operation" on the kick. The next attempt dies left and short to force overtime, in which Arizona's LaRod Stephens-Howling takes a screen pass to the house from 52 yards.
A native Texan who was born in Duncanville and graduated from UT-Arlington, Richie Whitt has been a mainstay in the Metroplex media since 1986. He's held prominent roles on all media platforms including newspaper (Fort Worth Star-Telegram, Dallas Observer), radio (105.3 The Fan) and TV (co-host on TXA 21 and numerous guest appearances, including NBC 5). He currently writes a sports/guy stuff blog at DFWSportatorium.com and lives in McKinney with his fiancee, Sybil, and two very spoiled dogs.
Copyright FREEL - NBC Local Media