Simone Biles withdraws from the floor exercise final and Caleb Dressel wins two more gold medals.
Questions still to be answered early Sunday: Could a Texan come home from the Tokyo Olympics with the title "world's fastest man?" Will Southlake's Hailey Hernandez bring home a medal?
Texas A&M's Fred Kerley wins silver in men's 100m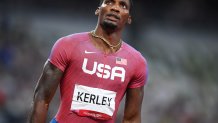 Fred Kerley won the silver medal in the men's 100m final Sunday morning. Kerley finished the race with a personal best time of 9.84 seconds.
Italy's Marcell Jacobs won gold, becoming the new fastest man alive with a personal best time of 9.80 seconds.
TCU's Ronnie Baker finished fifth with a time of 9.50 seconds.
Team USA's Raven Saunders won a silver medal in the women's shot put final on Saturday night. The four-time NCAA champion finished with a final distance of 19.79 meters.
In women's long jump, American Brittney Reese, the 2012 champion in London and the silver medalist in Rio de Janeiro five years back, qualified for Tuesday's final with a leap of 6.86 meters along with Tara Davis, the reigning NCAA champion who was born in Mesquite and raised in Wylie. Davis finished with a leap of 6.85m.
Watch the first session's stream online.
Watch the second session on Peacock, or stream it here.
Caeleb Dressel wins two more golds; US swimmers finish with 30 medals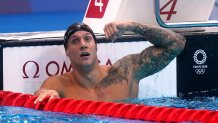 On the last night of swimming at the Tokyo Olympics, the Americans won four more medals -- setting records in two events -- to finish with 30 medals overall: 11 gold, 10 silver and nine bronze.
Caeleb Dressel won two more golds, giving him five in these Games and seven overall, while Bobby Finke picked up his second gold in the 1500m. Dressel and the rest of the men's 4x100m medley relay capped off the night in world record style, while the U.S. women picked up silver in their medley relay.
Skinner takes silver in individual vault final
After missing out on qualification earlier in the week, MyKayla Skinner will stand on the podium in vault finals.
Skinner stepped in for Simone Biles after she posted the third-best vault score in qualification, and she did not disappoint. Her 14.916 earned her a silver medal in the individual vault finals.
Brazil's Rebeca Andrade won gold, and South Korea's Yeo Seojeong won bronze.
Biles announced late Saturday she would also withdraw from the floor exercise final.
All-around gold medalist Suni Lee will compete on bars for the U.S. She faces off against Belgian bars specialist Nina Derwael, who Lee bested by just .033 points in the uneven bars rotation of the all-around competition. Jade Carey will also compete for the U.S. on vault. Carey will look to win her first medal at the Tokyo Olympics in this event.
On the men's side, Yul Moldauer finished in sixth in men's floor exercise, and Alec Yoder will compete on the pommel horse. The events begin at 2 a.m. CT streaming on Peacock or watch it online.
Krysta Palmer wins bronze in springboard, a first for the U.S. since 2000
American Krysta Palmer won bronze in the women's 3m springboard in Tokyo Sunday morning, becoming the first American female diver to medal in an individual event in more than three decades.
China had the top two finishers, with Shi Tingmao winning gold and Wang Han taking silver.
Southlake's Hailey Hernandez, the youngest member of the U.S. women's diving team in Tokyo, placed ninth overall, up from her 10th place position entering the final.
You can see highlights of the women's 3m springboard final during NBC's primetime coverage beginning at 7 p.m.
USA's Xander Schauffele holds on to win gold in men's golf
The United States' Xander Schauffele entered the final round of the men's golf tournament with a one-stroke lead on Japan's Hideki Matsuyami. And while a few golfers made it close, it was Schauffele that walked away with the lead and the gold medal.
Schauffele finished the tournament 18-under, holding off Slovakia's Rory Sabatini who takes home silver. Meanwhile, Matsuyama missed a putt on the 18th putting him in a seven-way tie for bronze. He and six players, including United States' Collin Morikawa, participated in a playoff to determine the bronze medal winner.
In the end, Taiwan's C.T. Pan takes home bronze.
Watch live beginning at 11:30 a.m. and again at 5 p.m. CT on Golf Channel, highlights will be shown during NBC's daytime coverage beginning at 10:45 a.m.