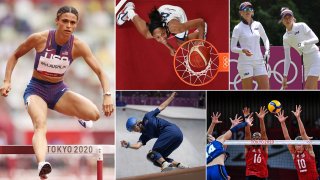 The competition in track and field is heating up with American stars racing for gold. Quarterfinals begin for Coppell's Chiaka Ogbogu in women's volleyball and Duncanville's Ariel Atkins in women's basketball. Sisters tee off in hope of helping Team USA sweep Olympics in golf, plus American skateboarders make their women's park debut.
Sydney McLaughlin Defeats Dalilah Muhammad, Shatters Own 400m Hurdles WR for Olympic Gold
It was a race of the American superstars.
Dalilah Muhammad topped the world record time in the women's 400m hurdles final on Tuesday night, but it wasn't enough for her to repeat as Olympic champion.
Sydney McLaughlin beat her own world record to win the highly anticipated race and secure her first Olympic medal. McLaughlin took nearly half of a second off her previous world record (51.90 seconds) by finishing in 51.46.
Muhammad, who won gold at the 2016 Rio Games, earned silver with a time of 51.58.
Courtney Frerichs won her first Olympic medal in the 3000m steeplechase. After taking the lead for most of the race, she was passed on the final lap by Uganda's Peruth Chemutai. Chemutai went on to win the first gold medal by a Ugandan woman in Olympic history. She finished in 9:01.45, and Frerichs finished in in 9:04.79.
Kenya's Hyvin Kiyeng won bronze in 9:05.39. American Valerie Constien finished in 12th, and reigning Olympic bronze medalist Emma Coburn finished 14th after falling on the final water jump.
Andre de Grasse edged out three Americans down the stretch to win gold in the men's 200m final. He crossed the line in 19.62 for his first gold medal.
Americans Kenneth Bednarek and Noah Lyles round out the podium in second and third place, respectively. Bednarek finished in 19.68, and Lyles finished in 19.74. Seventeen-year-old Erriyon Knighton finished in fourth at 19.93.
Allyson Felix will attempt to win another medal in the women's 400m final. The 35-year-old mother finished second in her heat to automatically qualify for the race. Felix crossed the finish line in 49.89 seconds.
Watch the Wednesday night session on NBC's primetime coverage, or stream live online. Watch the second session on Peacock, or stream it live.
US Women's Basketball Team Routs Australia, Advances to Semifinals
For a team that has won six straight gold medals and more than 50 consecutive games, playing from behind is unfamiliar and unexpected territory.
Yet, after the first quarter in all three games during pool play, the mighty U.S. women's basketball team found itself in that very territory: trailing.
That changed on Wednesday as the U.S. jumped out to an early lead en route to a 79-55 rout of Australia in its quarterfinal matchup at the Tokyo Olympics. The fast start helped secure a spot in the Final Four as Team USA extended its winning streak to 53 games and put itself within two victories of a seventh straight gold medal.
The U.S. advances to the semifinals to face Serbia, which defeated China 77-70 in the quarterfinals, on Friday at 11:40 p.m. CT.
Watch the game on USA Network, or stream online.
Nelly Korda Four-Under Par After Women's Golf Tournament First Round
The first round of the women's golf tournament is in the books and Sweden's Madelene Sagstrom is on top of the leaderboard by one stroke, while Team USA's Nelly Korda and India's Aditi Ashok are tied for second.
Korda entered the Olympic tournament as the world's top-ranked golfer and finished four under par and one stroke behind Sagstrom.
Viewers can stream Round 2 of the tournament on Aug. 4 at 5:30 p.m. CT. Check online for more information on scheduling.
Watch on Golf Channel, or stream online.
US Women's Volleyball Advances to Semifinals With Win Over Dominican Republic
Despite being without setter Jordyn Poulter and opposite hitter Jordan Thompson, the United States women's volleyball team handled the Dominican Republic with relative ease, winning 3-0 in the quarterfinal matchup.
The U.S. team now will play in the semifinals, where they can punch their ticket to the gold medal game. It's the United States' fourth straight Olympic semifinal appearance.
The U.S. will face the winner of Serbia and Italy in the semifinals. The United States came from down 2-1 to defeat Italy 3-2 in the last match of group play.
That match will take place Friday, Aug. 6 at 7 a.m. CT.
Watch on NBC, or stream online.
Sakura Yosozumi Wins Gold in Women's Park Skateboarding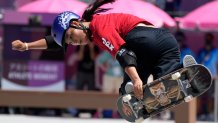 Japan won its third straight gold to kick off the inaugural Olympic skateboarding competition.
Japan's Sakura Yosozumi won the first-ever Olympic gold medal in women's park skateboarding on Wednesday in Tokyo. Yosozumi, 19, was the oldest medal-winner by more than six years. Japanese teammate Cocona Hiraki, 12, took silver with a 59.04; she scored a 58.05 on her first run, 59.04 on her second, and 5.70 on her third.
Sky Brown, who turned 13 less than a month ago, took the bronze with a 54.04.
World No. 1 Misugu Okamoto, 15, qualified first out of prelims but missed the podium in the final, finishing fourth. Her highest run score was a 53.58.
American Bryce Wettstein advanced to the final but teammates Brighton Zeuner and Jordyn Barratt missed out, finishing in 11th and 12th in prelims, respectively. Wettstein finished sixth with a 44.50 on her first run.
The final, initially scheduled for late Tuesday Central Time was rescheduled.
Watch on CNBC. Stream the qualification heats online and stream the final runs.
Team USA Can't Keep Up With Spain in Water Polo Quarterfinals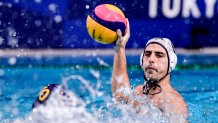 The United States kept Spain at bay during the first half of their quarterfinal match at the Tokyo Tatsumi International Swimming Center on Wednesday, but it wasn't enough. The European team -- whose Alvaro Granados is the tournament's top scorer, with a cumulative total of 17 goals so far -- dumped the Americans in the last two quarters, winning 12-8.
Spain moves onto the semifinals, two wins away from gold. They remain perfect -- six for six, between their five preliminary matches and this quarterfinal
Watch on CNBC, or stream online.