Simone Biles will not defend her Olympic title, but Jade Carey steps up and joins Suni Lee in the pursuit of individual gold. Katie Ledecky has one more race and Caeleb Dressel goes for his first individual medal, while Team USA is in the pool for water polo. Golf tees off without Bryson Dechambeau or Jon Rahm, plus Team USA volleyball takes on Turkey.
Suni Lee Wins Gold In Gymnastics All-Around
American gymnast Sunisa Lee stepped up and shone in a clutch performance Thursday.
At the start of Olympic gymnastics competition in Tokyo, it would have been foolish to bet on anyone else but Simone Biles to take home gold in the women's all-around.
But when Biles withdrew from the team finals and all-around competition to focus on her mental health, Lee stepped into the spotlight.
Her gold medal continues the legacy of American dominance in women's gymnastics and cements her place in the sport's history.
Watch live on Peacock. You can stream full coverage.
Caeleb Dressel Sets Olympic Record to Win Gold in Men's 100m Freestyle Final
Caeleb Dressel won his first solo Olympic medal after finishing first in the men's 100m freestyle final on Wednesday, setting an Olympic record to do so.
An emotional Dressel cried during the post-race interview: "I don't know if it's set in yet. Right now, I'm just kind of hurting. It's a really tough year, it's really hard, so to have the results show up, it really came together, so I'm happy."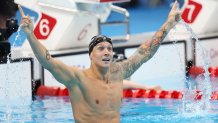 Watch live in NBC's primetime coverage, or stream live.
Italy Beats U.S. Men's Water Polo 12-11 in Preliminary Round
Alex Obert's goal with 5:22 left in the match gave the previously unbeaten U.S. men's water polo a two-goal lead, but Italy came roaring back with a three-goal gusher to pull out a 12-11 victory in Pool A action at the Tokyo Olympics.
The Italians pulled within one on a man-advantage goal at 4:35, the tying score came via penalty shot at 2:22, and Nicholas Presciutti provided the match-winner with a man-advantage goal at the 1:40 mark. The U.S. couldn't get a shot off after a final, fruitless attempt with 53 seconds remaining and fell to 2-1 in pool play.
Italy remained unbeaten at 2-1-0.
Watch on USA Network, or stream live.
Austria's Sepp Straka Leads Men's Golf Tournament after Round 1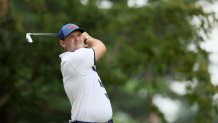 Round 1 of the men's golf tournament is in the books.
After being delayed earlier Thursday morning due to lightning, the round ended out with none of the four Americans competing inside the top 10. The four Americans were the top four ranked golfers in the tournament entering Olympic play.
Austria's Sepp Straka, who came into the Olympics ranked No. 40 out of the 60 competitors, holds the lead with a score of 63, good for 8-under par. He scored four birdies on both the front and back nine and did not shoot worse than par on any other hole.
Watch live on Golf Channel, or stream live.
U.S. Women Rebound in Five Sets to Top Turkey
After winning its first two sets in dominant fashion, it appeared the U.S. women's volleyball team was set to cruise to yet another Olympic victory in Tokyo.
But then the tables turned. The U.S. blew its two-set lead before rebounding in a nail-biting fifth-set tiebreaker to defeat Turkey 25-19,25-20, 17-25, 20-25, 15-12, in a match that took just over two hours.
The win was the Americans third straight victory in Pool B and ensures then a spot in the quarterfinals. Italy also is undefeated in Pool B. The Americans previously defeated Argentina and China, the defending Olympic champion. Team USA is seeking its first gold medal in women's volleyball.
Watch on USA Network, or stream online.