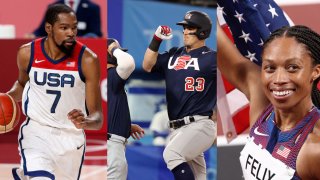 If the United States catches China in the race for most gold medals at the Tokyo Olympics, it will have both men and female track and field athletes from Saturday morning's 4x400m relay races to thank.
Team USA Men's Basketball Defeats France to Win 4th Straight Gold Medal
The U.S. men's basketball team got its revenge on France, winning the gold medal game at the Tokyo Olympics, 87-82.The Americans held only a seven-point lead with three minutes to go, just as they did in the preliminary game against France, where France went on a run and got the win.
The French cut it to three with 10 seconds left on two free throws by Nando De Colo, but Kevin Durant made both of his free throws with 8.8 seconds left to seal the win.
"It's winning time," Durant said after the game when asked how he came through for the team in the gold medal game. Now a three-time gold medalist, he became the U.S. men's basketball team's leading scorer of all time during the Tokyo tournament. Jayson Tatum added 19 points for the U.S. off the bench, while starting guards Jrue Holiday and Damian Lillard each tallied 11 points.
The American men have now won four straight gold medals. The American women aim to extend their own gold medal streak against Japan at 10:30 p.m. on Saturday night.
Texas Connections: Durant (University of Texas at Austin), Khris Middleton (Texas A&M) and Keldon Johnson (San Antonio Spurs).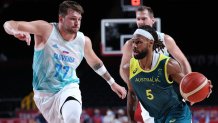 Meanwhile, Dallas Mavericks' players Luka Doncic is coming home empty-handed. Australia outlasted Slovenia to win the bronze Saturday morning. Doncic's Dallas Mavericks teammate Josh Green didn't play in the final but will get a bronze medal for his home country.
Team USA adds more gold medals in track and field in 4x400m relays
In what was the last full day on the track, Team USA got to the top of the podium in both the men's and women's 4x400m relays.
In what was the final race in Allyson Felix's historic Olympic career, Team USA's 4x400m team of Sydney McLaughlin, Allyson Felix, Dalilah Muhammad and Athing Mu came in first sending Felix off as the most decorated track and field Olympian in history.
Felix ran the second leg of the race, and after the team's win, the 35-year-old track star surpassed Carl Lewis's record of 10 medals.
Poland finished in second and Jamaica in third.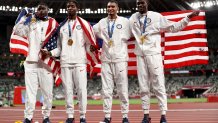 After the men's 4x100m team failed to qualify for their final, the men's 4x400m team will now come home heroes for the U.S.
The team of Michael Cherry, Michael Norman, Bryce Deadmon and Rai Benjamin crossed the finish line first to give Team USA the first men's track and field gold medal of the Tokyo Olympics.
The Netherlands won silver, and Botswana wins bronze.
You can witness all the action tonight during NBC's primetime coverage.
American Molly Seidel Wins Bronze in Women's Marathon
Molly Seidel ran a stunning race in the women's marathon at the Tokyo Olympics to secure the bronze medal in her third-ever marathon. Peres Jepchirchir of Kenya won the gold in 2:27:20, while her countrywoman Brigid Kosgei took the silver.
Seidel had previously only run a marathon in the Olympic trials and the 2020 London Marathon, which she finished in 2:25:13. She won four NCAA titles at Notre Dame, but the longest of them was only 10,000m. In winning a medal, Seidel fulfilled a childhood goal. As a fourth-grader, she declared, "I wish I will make it into the Olympics and win a gold medal"
This was Team USA's first medal in the women's marathon since Deena Kastor in 2004. Kastor was quick to congratulate Seidel on her third-place finish.
Team USA shut out by Japan in baseball gold medal game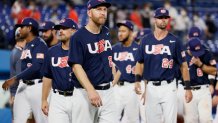 Team USA brings home its second straight Olympic baseball medal, a silver. With a 2-0 win over Team USA at Yokohama Stadium, Japan took home gold.
Japan was undefeated in Olympic play and gave the host nation its first gold medal in the sport.
By making it to the gold medal game, Eddy Alvarez has become the third American to win a medal in both the Summer and Winter Olympics, and he will look to make that medal gold.
The U.S. now has one gold, one silver and two bronzes all time.
Nelly Korda Wins US Gold in Women's Olympic Golf Tournament
American golfer Nelly Korda won the women's Olympic golf tournament on Saturday morning.
Korda held off Japan's Mone Inami and New Zealand's Lydia Ko to win gold at the Tokyo Olympics.
The win completed Team USA's sweep of gold medals in golf since Xander Schauffele won the men's tournament. Korda is the first American female golfer to win gold since 1900.
Korda shot a -2 (69) in her final round, which put her at -17 for the tournament.
She had a three-shot lead entering the final round but saw disappear as Ko and Inami came charging late.
She had a three-shot lead entering the final round but saw disappear as Ko and Inami came charging late.
With Korda in the lead by one stroke on the 17th hole, the play was suspended for 49 minutes due to a tropical storm Korda pared 18 to win gold. Inami and Ko went to a playoff to decide silver and bronze, with Inami winning silver and Ko bronze.
It was Japan's medal in golf at the Olympics.