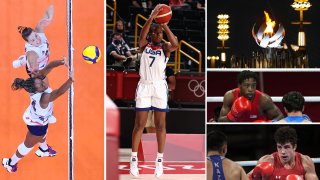 As the final hours of the 2020 Tokyo Olympics approach, the final gold medals of the Games are awarded in women's volleyball and boxing. The U.S. women's basketball team won its seventh straight gold medal early Sunday, while Kenya's Eliud Kipchoge won the men's marathon. Plus, the Tokyo Olympics Closing Ceremony.
Team USA women's basketball defeats Japan, secures 7th straight gold medal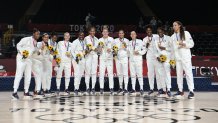 The U.S. women's basketball team won its seventh straight gold medal on Saturday night, matching a record set by the U.S. men between 1936 and 1968. The final score over Japan was 90-75.
In winning a silver in its home Olympics, Japan takes home its first-ever medal in women's basketball.
Brittney Griner took over the game much the way Kevin Durant did for the U.S. men on Friday night. She had 30 points on 14-of-18 shooting. A'ja Wilson, winning a gold medal on her 25th birthday, added 19 points, while Breanna Stewart had a double-double with 14 points and 14 rebounds.
Even on a team with many Olympic veterans, six of the players were not alive the last time the U.S. didn't win gold, when they took home bronze from Barcelona in 1992. Meanwhile, Team USA's most experienced players, Sue Bird and Diana Taurasi, made history by becoming the first Olympic basketball players – male or female – to win five gold medals.
"It's 20 years of sacrifice, putting everything aside and just wanting to win," said Taurasi after the game. "This group found a way to win."
"It's not just about us," Bird said, referencing all of the players who contributed to the U.S. streak.
Team USA wins first-ever Olympic gold in women's volleyball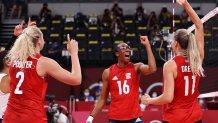 A spike by Jordan Larson gave the U.S. women's volleyball team its first ever gold medal.
Team USA defeated Brazil in straight sets, winning 25-21, 25-20, 25-14 to take gold.
Andrea Drews had a team-high 15 points, Michelle Bartsch-Hackley added 14 and Larson finished with 12.
The win also put the United States in front of China in the gold medal count at the Tokyo Olympics, giving the U.S. 39 to China's 38. 
Eliud Kipchoge wins back-to-back golds in men's marathon, Team USA's Galen Rupp finishes eighth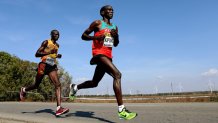 Eliud Kipchoge made marathon history by winning gold at the Tokyo Olympics, cruising to a time of 2:08:38. He is one of just three men to win back-to-back gold medals in the men's Olympic marathon. The Kenyan holds the current world record (2:01:39) and became the first runner to ever record a sub-two-hour marathon in a non-competition race.
Abdi Nageeye of the Netherlands claimed silver with a time of 2:09:58 and Belgium's Bashir Abdi won bronze.
Team USA's Galen Rupp finished eighth with a time of 2:11:41, despite being an American favorite to medal at Tokyo. Rupp returned for his fourth Olympic Games but only his second as a marathoner.
Davis, Torrez Jr. end United States' Olympic boxing drought with silver medals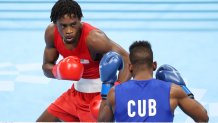 On the last day of the Tokyo Olympic Games, American boxer Keyshawn Davis took silver after falling to Cuban boxer Andy Cruz 4-1 in the men's lightweight gold medal match on Saturday.
Davis' run to the match included a knockout of No. 1 seed Sofaine Oumiha of France in the preliminary round and a win over Hovhannes Bachkov of Armenia in the semifinal match.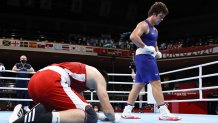 United States boxer Richard Torrez Jr. earned silver after falling to Uzbekistan's Bakhodir Jalolov 5-0 in the super heavyweight gold medal bout.
Torrez had a chance to win the first U.S. gold medal for Team USA since Andre Ward won silver in Athens in 2004 and be Team USA's first super heavyweight champ since 1984.
The United States has now completed its competitive events at the Tokyo Olympics.
Tokyo Olympics conclude with 2021 Closing Ceremony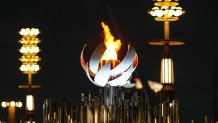 All things must end and the Tokyo Olympics is no different. The two-week global competition, which was played under unprecedented circumstances and limitations due the COVID-19 pandemic, will come to its natural conclusion on Sunday evening in Japan.
The Tokyo Olympics saw American swimmers Katie Ledecky and Caeleb Dressel dominate in the water, as well as gymnasts Suni Lee and Mykayla Skinner step up to the mat for Simone Biles. And that was just the first week.
During the second week in Tokyo, the United States was equally busy -- collecting gold medals in men's basketball, water polo, golf and the women's 800m race. As of Saturday morning, Team USA was over the 100-medal threshold for Tokyo -- the most medals of any nation competing at this year's Summer Games -- and sat just four gold medals behind China.
Watch the Tokyo Olympics Closing Ceremony live at 6 a.m. CT Sunday stream live here. The Closing Ceremony will air during NBC primetime starting at 6 p.m.