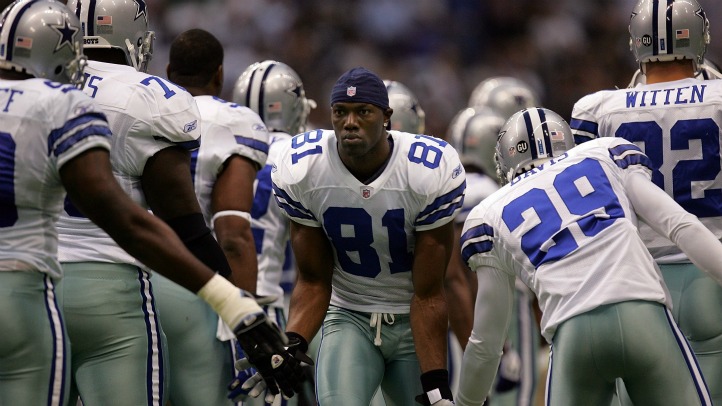 Things ultimately turned ugly between Terrell Owens and the Dallas Cowboys, their quarterback included, after the receiver was abruptly cut following the 2008 season, but Owens still has fond memories of his working relationship with Romo—and says that if he could go back in time, he would tearfully defend Romo to the press all over again.
"Again, there's a lot of guys that can give you some insight on who I am as a player, on the practice field, on the game field and just in general in the locker room," Owens told TicketStock over the weekend on 1310_AM The Ticket, via the Dallas Morning News. "I've always been that guy, I'm a very caring guy. I've done a number of things for a lot of guys throughout my career that a lot of people don't know about. It's not for publicity's sake. That's just who I am.
"So for me, I understood where Tony had come from. He had sat on the sideline for a couple of years and watched and waited for his time. Once he got that nod to be the quarterback of the Cowboys, I think it was magic in the making. I think we clicked instantly."
Sports Connection
Connecting you to your favorite North Texas sports teams as well as sports news around the globe.
Indeed, in Owens' second year with the team, the Cowboys looked like legitimate Super Bowl contenders on their way to a 13-3 regular season record. They then lost to the eventual Super Bowl champion New York Giants at home in the first round, and fans were left to stew over the loss, Romo's famous girlfriend, the bye week vacation he took with Jason Witten and his famous girlfriend, and so forth. It was then that Owens famously delivered the "That's my quarterback" speech.
"During that time, that was a time when he was dating Jessica Simpson, and a lot of things were going on at that time. I think he had taken a vacation or something right before the playoffs and he got a lot of slack because of that," Owens said. "I had gotten injured a week or two prior and I think it was a playoff game that we lost. So, I knew that the media was going to blame the loss on Tony and I didn't really think that was fair. Everybody that has played the game understands that it's a brotherhood and we're a family.
"That was me just taking up for him as if he was my real brother, my blood brother. I'd do it again. At that particular point in my career and at that press conference, that's how I felt. He was my quarterback and I wanted to defend him and I wanted him to know that I had his back."
Copyright FREEL - NBC Local Media