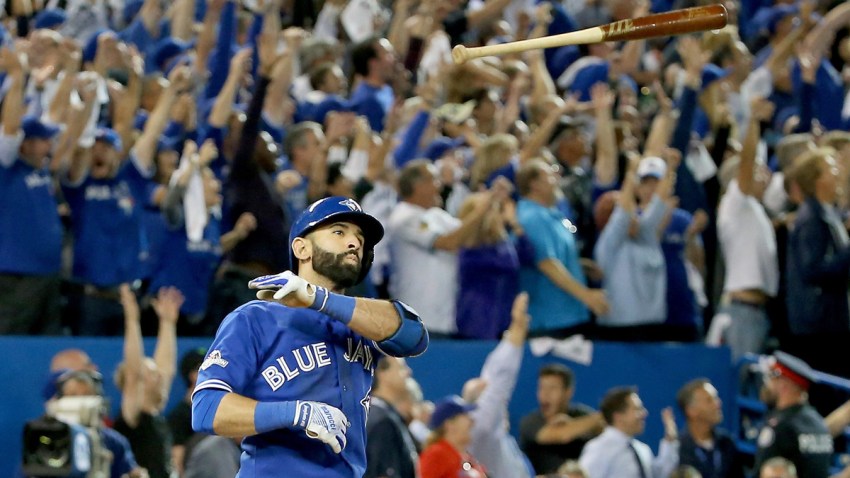 C'mon Rangers fans. You're better than this.
At least, I thought you were.
We've been to two World Series and experienced our share of heartache. Losing to the favorite Blue Jays in the ALDS in a year in which the Rangers were projected to finish no better than third in the AL West makes it a successful season. A disappointing end, yes, but nonetheless a successful season.
Sports Connection
Connecting you to your favorite North Texas sports teams as well as sports news around the globe.
I understand the disdain for the porous defense by Mitch Moreland, Rougned Odor and – in particular – Elvis Andrus in the pivotal 7th inning of Game 5. What I don't get is the anger toward Jose Bautista.
In the wake of his monumental three-run homer that won the series, Rangers fans have reacted childishly and immaturely like a kid who has a toy snatched from his hands for the very first time. Did Bautista pose and admire his 420-blast? Yep. Did he exaggerate his bat flip in the general direction of the Rangers' dugout? Sure. Did he stare down reliever Sam Dyson? Duh.
It's painful to have an opposing player dunk in your face, but Bautista and the Jays beat the Rangers fair and square. Bautista as Public Enemy No. 1 is just nonsensical.
He didn't cheat like Tom Brady. He didn't reneg on a committment like DeAndre Jordan. He merely homered in the clutch, and then made sure we all saw it.
This kind of stuff I've seen on social media the last couple days just makes us look silly:
*Just wait until next year when Jose gets one in the ear hole!
*We'll see if he flips his bat after taking a fastball between the shoulder blades.
*What a douche. Afraid to take us on like a real man!
Sorry people, but this is professional competitive sports. Not the WWE. And I'm pretty sure you're missing the point.
It hurts, I know. But direct your anger toward your own players. Remember what set up Bautista's heroics and histrionics: A grounder to shortstop, two bunts and a pop fly to 2nd base. All should have been routine outs. But the Rangers kicked away their chance to win that series, and your reaction is …
If you can't beat 'em, hit 'em?!
I know Nolan Ryan's bloody headlock of Robin Ventura is legendary, but it has zero to do with baseball. With actual winning and losing. Last time I checked they don't have parades for the most macho team, merely the best team. Exacting a pound of flesh from Bautista for his supposed violation of an unwritten rule that's so ridiculous it remains unwritten just doesn't make sense.
And, Dear Dyson, if you don't want Bautista to "do stuff that kids do," how about pitching like an adult and get him out? He was not respecting the game? He was taunting? You know who says that? Losers, that's who. The Cowboys were an atrocious team in 2000 when they couldn't keep Terrell Owens from celebrating on the star. The Rangers are a good team, but not better than the Blue Jays.
It was an emotional series and, I admit, the Blue Jays' arrogance is easy to hate. But, seriously, a Rangers' pitcher is going to purposely throw a ball at Bautista next season and we're all going to feel better about this season's Game 5?
Don't enjoy beating us or we'll injure you! That's the sourest of grapes and it's embarrassing to stoop to that level.
What a sad, hollow, shallow form of revenge.
The Rangers had a good season. Now their fans need to be better.
A native Texan who was born in Duncanville and graduated from UT-Arlington, Richie Whitt has been a mainstay in the Metroplex media since 1986. He's held prominent roles on all media platforms including newspaper (Fort Worth Star-Telegram, Dallas Observer), radio (105.3 The Fan) and TV (co-host on TXA 21 and numerous guest appearances, including NBC 5). He lives in McKinney with his wife, Sybil, and two very spoiled dogs.
Copyright FREEL - NBC Local Media