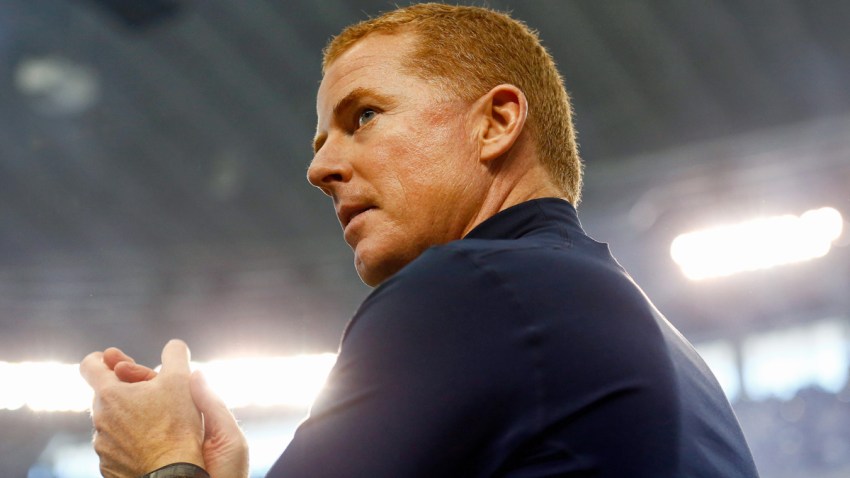 The thrilling climax of Super Bowl 49 was a war of what-the-what's between head coaches Bill Belichick and Pete Carroll.
As the Seahawks drove inside New England's 10 with under a minute to play, the Patriots' coach – duh – should have been using timeouts to save Tom Brady time in case Seattle scored to take the lead. Some might argue that the savvy play would have been to allow the Seahawks to score and hope Brady to drive down for an overtime-forcing field goal.
But Belichick's screwed-up strategy was trumped by Carroll, who okayed a Russell Wilson pass – instead of a Marshawn Lynch run – when trailing by four and facing 2nd-and-goal from the 1 with 26 seconds remaining.
Sports Connection
Connecting you to your favorite North Texas sports teams as well as sports news around the globe.
It was a great game. But it will be remembered for the bad decision.
The Cowboys, thankfully, have never lost a Super Bowl because of a coaching gaffe, but there have been some memorable brain hiccups. I thought of a Top 5 real quick:
5. No, Danny! No!! – Actually, this one goes more on quarterback Danny White than on head coach Tom Landry. In a 1983 December showdown between 12-2 teams, the Cowboys trailed 14-10 early in the fourth quarter and faced a 4th-and-1 at the Washington 38. While Landry wanted his quarterback to simply attempt to draw the Redskins offside with a hard count, White audibled into a running play – despite his head coach screaming – that was stuffed for a loss. Washington went on to win, 31-10.
4. Three Strikes and Your Out – In a crucial game against the Chargers in December, the Cowboys trailed 20-17 but had a 1st-and-goal at the 3 with less than two minutes remaining. Despite having Pro Bowl weapons in Miles Austin and Jason Witten, quarterback Tony Romo never put the ball in the air. Instead, head coach Wade Phillips – with all the creativity of a paper grocery bag – called four consecutive hand-offs to Marion Barber. On first down he gained two yards to the 1-yard line, but was stuffed for no gain and second, third and fourth down to end the game.
3. No for Two? – After his team had rallied from 23 points down to pull within 26-16, Cowboys head coach Dave Campo decided to not go for two points to pull within eight points. The Cowboys instead kicked the PAT, trailed by nine and were helpless to tie the game even with a late score, and a 26-24 loss on Thanksgiving 2001.
2. Load Left – It wasn't necessarily head coach Barry Switzer's decision to run the same play twice against the Eagles in 1995 that was perplexing, it was his decision not to punt. Tied at 17 with two minutes to play in an NFC East showdown in Philadelphia, the Cowboys faced 4th-and-1 at their own 29. Switzer, who later said he went for it because he didn't trust a defense that held the Eagles to 17 points, ran "Load Left" - Emmitt Smith behind left guard Nate Newton – and the Eagles stuffed it. The play, however, was negated because it wasn't snapped before the two-minute warning. After the timeout, Switzer decided to run the same play again, and again the Eagles stopped Smith for no gain. Three plays later the Eagles kicked the game-winning field goal.
1. Desert Freeze – Tied at 13 with the Cardinals and only seven seconds remaining, head coach Jason Garrett turned a win into a loss in Arizona. As time wound down, kicker Dan Bailey calmly drilled a game-winning 49-yard field goal. Oops. Just before the snap, Garrett decided he "didn't like the feel of the operation" and decided to use a timeout, thereby negating the play. Bailey missed the second attempt, and the Cowboys lost in overtime on a 52-yard screen pass.
A native Texan who was born in Duncanville and graduated from UT-Arlington, Richie Whitt has been a mainstay in the Metroplex media since 1986. He's held prominent roles on all media platforms including newspaper (Fort Worth Star-Telegram, Dallas Observer), radio (105.3 The Fan) and TV (co-host on TXA 21 and numerous guest appearances, including NBC 5). He currently lives in McKinney with his wife, Sybil, and two very spoiled dogs.
Copyright FREEL - NBC Local Media