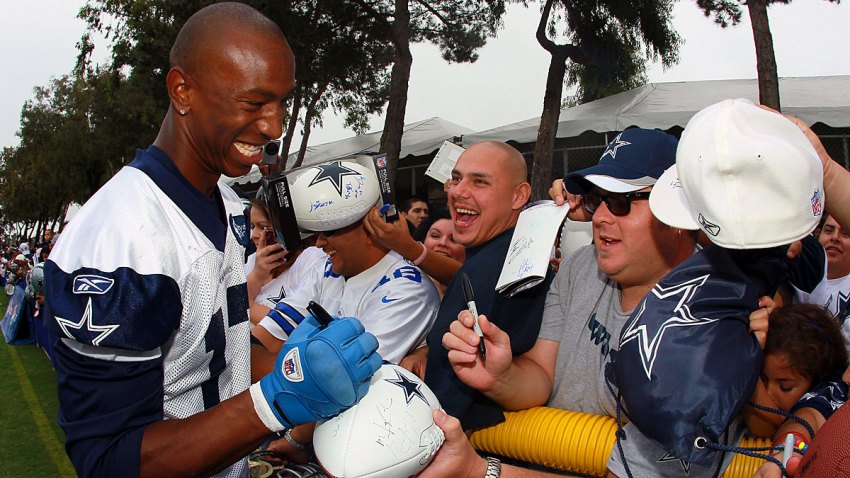 A jury in Massachusetts Wednesday morning found Aaron Hernandez guilty of first-degree murder, meaning the former Patriots' tight end will spend the rest of his life in prison without the possibility of parole.
Gulp.
Even with their infamously littered past – and present – the Cowboys and their checkered reputation have never had a player on their roster convicted of murder.
Sports Connection
Connecting you to your favorite North Texas sports teams as well as sports news around the globe.
Come to think of it, even the Top 5 Worst Cowboys' Criminals pale in comparison to Hernandez.
5. Sam Hurd, Drug Conspiracy – The big-smiling, feel-good former Cowboy from San Antonio was in 2013 sentenced to 15 years in prison after being busted for attempting to set up a vast drug operation that spanned three states. Though the jury believed Hurd when he said he had never used or sold cocaine, they found him guilty for making grand plans to distribute through a carefully crafted network.
4. Thomas Henderson, Drug Possession/Assault – In 1983 the linebacker formerly known as "Hollywood" was arrested for smoking crack with two under-aged girls, asking them for sex and threatening them with a gun. One of the girls was described in the police report as a "paraplegic minor." He spent two months in rehab, and then two years in prison.
3. Larry Bethea, Theft – There are more heinous crimes in Cowboys' history (like Harvey Martin and his multiple domestic abuse arrests), more ridiculous mistakes (Nate Newton getting arrested twice for transporting a truck full of marijuana) and certainly more infamous transgressions, but nothing compares to the audacity of stealing from your own mother. Which is exactly what the defensive lineman was convicted of in 1987. Shortly after the legal system found him guilty of stealing his mom's $64,000 life savings, Bethea committed suicide.
2. Dwayne Goodrich, Vehicular Manslaughter –
The former second-round draft pick was behind the wheel of
one of the most famous and tragic hit-and-run accidents in DFW history
, speeding through a fiery wreck on I-35 in 2003 and killing two good Samaritans trying to pull a man from a burning car. He spent nine years in prison in West Texas before being released in 2011.
1. Rafael Septien, Indecency With A Child – In 1987 the kicker was arrested on charges of aggravated child molestation, pled down to indecency and was punished only by a $2,000 fine and probation. He was released by the Cowboys and never kicked in the NFL again.
A native Texan who was born in Duncanville and graduated from UT-Arlington, Richie Whitt has been a mainstay in the Metroplex media since 1986. He's held prominent roles on all media platforms including newspaper (Fort Worth Star-Telegram, Dallas Observer), radio (105.3 The Fan) and TV (co-host on TXA 21 and numerous guest appearances, including NBC 5). He currently lives in McKinney with his wife, Sybil, and two very spoiled dogs.
Copyright FREEL - NBC Local Media