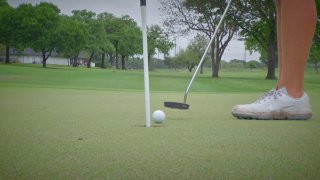 The Northern Texas PGA Foundation has announced its 2020 scholarship recipients.
Scholarships totaling $417,000, the largest amount awarded in a single year by the foundation, will be given to 44 recipients.
According to the Northern Texas PGA Foundation, 42 high school seniors attending college this fall were awarded $320,000 in scholarships. Each scholarship awarded varied between $5,000 and $20,000.
One student was awarded a "last dollar" full scholarship, valued at approximately $92,000, to the Foundation's partner school, the University of North Texas at Dallas.
A scholarship totaling $5,000 will be awarded to one junior golfer through random drawings at the Jerry J. Ransom Pro-Junior-Am in July, the Northern Texas PGA Foundation said.
"We are incredibly proud to have awarded a record of $417,000 in scholarships for high school seniors this year," Mark Harrison, Executive Director and CEO of the Northern Texas PGA, said. "We are in trying times for sure, and thanks to the support of so many people who believe in our Foundation and our commitment to higher education, it was wonderful to share the great news with these students. With all things considered, they are more deserving than ever this year."
The Northern Texas PGA Foundation said that this year, 71% of the scholarships were awarded based on financial need, while 29% were awarded based on academic performance, extracurricular activities and community involvement.
Local
The latest news from around North Texas.
Since 1983, the Northern Texas PGA Foundation has awarded $3.19 million in college scholarships to more than 550 deserving students.
The Northern Texas PGA Foundation's 2020 scholarship recipients are as follows:
AT&T Byron Nelson Scholarship - Taleah Washington - Grand Prairie, TX
Ben Hogan Foundation Scholarship - Marissa Bhavsar - Lewisville, TX
Ben Hogan Foundation Scholarship - Sydney McConnell - Tyler, TX
Ben Hogan Foundation Scholarship - Knox Wagoner - Dallas, TX
Birdies for Kids Scholarship - Daniela Rodriguez - Dallas, TX
Briggs Berry Heart of a Lion Scholarship - Logan Eagle - Granbury, TX
Cameron McCormick Golf Scholarship - Jordan Davis - Allen, TX
Cameron McCormick Golf Scholarship - Stephanie Lee - Southlake, TX
Cameron McCormick Golf Scholarship - Gabriella Tomanka - Grapevine, TX
Deloitte / NTPGA Fairway to Success Scholarship - Tim Fields - Dallas, TX
Deloitte / NTPGA Fairway to Success Scholarship - Lupita Guillien-Salinas - Dallas, TX
Deloitte / NTPGA Fairway to Success Scholarship - Marcela Landin - Dallas, TX
Deloitte / NTPGA Fairway to Success Scholarship - Jacqueline Miranda - Dallas, TX
Deloitte / NTPGA Fairway to Success Scholarship - Marysol Ortega - Dallas, TX
Deloitte / NTPGA Fairway to Success Scholarship - Josue Rosa - Dallas, TX
Ewing Automotive Scholarship - Allee Mainord - Stephenville, TX
Evelyn and Frank Borgsmiller Scholarship - Jovana Lara - Dallas, TX
Holly & Doug Brooks Family Foundation Scholarship - Carson Cusick - Allen, TX
Holly & Doug Brooks Family Foundation Scholarship - Garrett Hess - Gainesville, TX
Holly & Doug Brooks Family Foundation Scholarship - Mitchell Hudgens - Lubbock, TX
Holly & Doug Brooks Family Foundation Scholarship - Malini Prasad - Frisco, TX
I AM a Golfer Foundation Scholarship - Drazell Washington - Dallas, TX
Jerry J. Ransom Scholarship - Orlando (Javie) Cerda - Fort Worth, TX
Jerry J. Ransom Scholarship - Jaimee Copeland - Crowley, TX
Jerry J. Ransom Scholarship - William Leslie - Diana, TX
Jerry J. Ransom Scholarship - Dawson Pruitt - Canton, TX
Jerry J. Ransom Scholarship - Taylor Saltzman - Ponder, TX
Jordan Spieth Family Foundation Scholarship - Rebeca Altamirano - Dallas, TX
Jordan Spieth Family Foundation Scholarship - Jassiel Lorea - Dallas, TX
Jordan Spieth Family Foundation Scholarship - Leikiys Palacios - Dallas, TX
Jordan Spieth Family Foundation Scholarship - Jesus Rodriguez - Dallas, TX
Mac Spikes PGA Member Scholarship - MacKenzie Kenney - Hickory Creek, TX
O'Brien Architects Scholarship - Jeremy Zhang - Plano, TX
Randy Smith Scholarship - Matthew Hanson - Longview, TX
Rob Norland Scholarship - Kennedy Smith - Frisco, TX
Ronny Glanton / Dallas District Golf Association Scholarship - Coby Montalbano - Frisco, TX
Royal Oaks Country Club / Nicholas Stafford Scholarship - Campbell Collins - Dallas, TX
Scottie Scheffler / RSM Birdies Fore Love Scholarship - Courtney Kang - Dallas, TX
Scottie Scheffler / RSM Birdies Fore Love Scholarship - Matthew Willner - Frisco, TX
Sherrill Park / Two Dads & a Coach Scholarship - Trinity Malott - Stephenville, TX
The Ratliff Group Scholarship - Jessica Aguirre - Colleyville, TX
UNT Dallas / NTPGA Fairway to Success Scholarship - Ruth Leija - Dallas, TX
West Texas Legends Scholarship honoring S.A. Smith, Hart Warren, Jay McClure and Sherwin Cox - Aspen Escamilla - Stephenville, TX