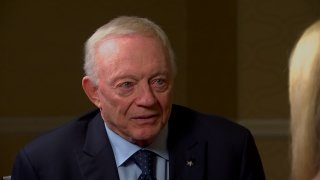 The early part of the summer has seen Dallas Mayor Eric Johnson make a point of saying the city needs another pro sports franchise.
His latest attempt occurred on Twitter when he said the Los Angeles Chargers should leave Inglewood and come to Dallas.
"Well, I like the mayor," Dallas Cowboys owner Jerry Jones told The Dallas Morning News. "I like him personally, but he doesn't have the depth. He doesn't have the knowledge that others have regarding how unique Dallas is and how we enjoy the interest in the Cowboys. He wouldn't want to water that down as it relates to Dallas if he knew as much, and has spent as much time in sports as I have."
Read more about Jones' take on an NFL team in Dallas from our partners at The Dallas Morning News.
Copyright The Dallas Morning News