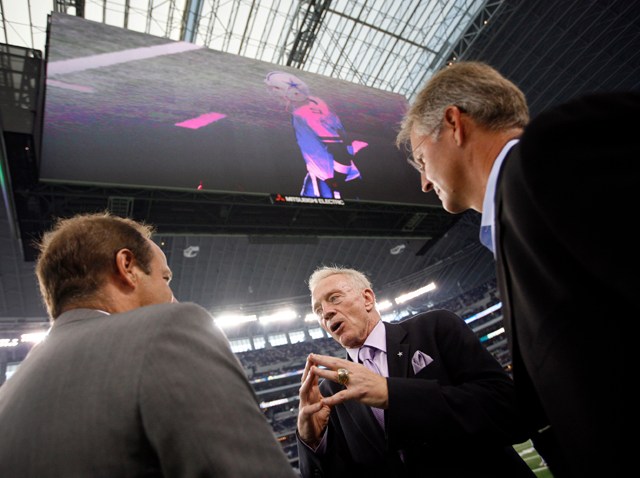 In the wake of this weekend's issues with punters hitting the video board of Cowboys Stadium (let's just dub it Videoboard-Punting-Gate), we asked best-selling author, Slate podcaster and onetime Broncos training camp kicker Stefan Fatsis (whose brilliant book A Few Seconds Of Panic is out in paperback right now) for his perspective on the issue.

During last year's edition of HBO's "Hard Knocks," viewers got to experience the multifaceted gridiron knowledge of the Double J. There was Jerry as Tom Landry, lecturing the team on the Cowboy Way. There was Jerry as Gil Brandt, evaluating the skills of a rookie running back. There was Jerry as Wade Phillips, informing a wide receiver that one of his competitors was being cut. There was Jerry as Nate Newton, inhaling popcorn with Peter King.

Now your polymath owner is expanding his expertise to yet another discipline: punting.

Readers of a Cowboys-only blog already know that during a preseason game on Friday, a punter for the Tennessee Titans dinged the new stadium's mammoth video board that hangs 90 feet above the center of the playing field and stretches from one 20-yard line to the other. Afterward, Double J implied that the Titans punter was trying to hit it. The TV screen shouldn't be a problem under normal circumstances, he said, because punters want to kick the ball far, not high. And they never punt down the center of the field anyway; they punt to one side or another.

I spent a training camp as a placekicker with the Broncos to write a book about life in the NFL. But I hung with the punters, too. To develop hand-eye coordination, I caught snaps with one eye obscured behind a pole. To improve balance and flexibility, I pranced like a Lipizzaner stallion. To master the art of the drop, I circumnavigated the field learning to release the ball so it bounced straight up. Yes, we took boatloads of grief for that drill. "OVERWORKED AND UNDERPAID," Jake Plummer scribbled on a photo of the punters practicing drops.

But you don't have to be Ray Guy to know that everything Jones said about punting was dead wrong. Punters do kick high and far. They often punt directly downfield. And they can kick the absolute bejeezus out of a football. There isn't a punter in the NFL who can't hit that stupid scoreboard, and not just for giggles in pregame warm-ups. Posters on KFFL.com are debating the physics of punting, but the bottom line is pretty clear: reaching a height of 30 yards isn't a big deal for a pro.

Jones said he won't raise his expensive toy an inch higher because it already exceeded the NFL's requirement by five feet. But that's a red herring. The Cowboys and the NFL miscalculated how high was high enough. Jones will stomp his alligator boots and rip the NFL for show, but ultimately he'll be forced to spend the $2 million or whatever it takes to raise the scoreboard another 10 or 15 feet.

And then some other titanium-legged punter will hit that, too, demonstrating that the real mistake had nothing to do with punting trajectories but with letting Jerry Jones, in the name of technological progress and sponsorship revenue, put a billboard over the middle of the playing field.

Of course, the NFL could just let Jerry have his way, adding a strategic twist to the game. The league also could require kickoffs to clear a moat on the 10-yard line, extra points to land in a clown's mouth and field goals to pass through the blades of a windmill.

Stefan Fatsis is the author of A Few Seconds of Panic: A Sportswriter Plays in the NFL, which was published this month in paperback.