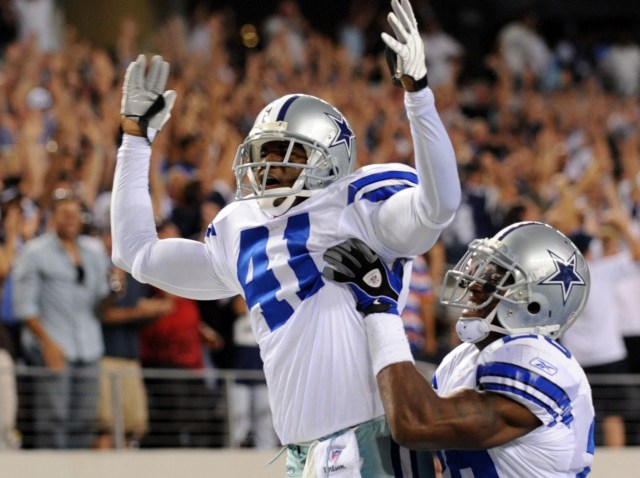 Had Jerry Jones gotten his wish, Terence Newman almost certainly would not be getting ready for his ninth season with the Dallas Cowboys.
It's not that Jones specifically wanted to get rid of Newman. It's just that the top cornerback in the NFL, Nnamdi Asomugha, was a free agent and Jones wanted to sign him. Badly.
And if Jones had succeeded, Newman would've been the obvious choice to be dumped to make room for Asomugha in the starting lineup and under the salary cap.
Sports Connection
Connecting you to your favorite North Texas sports teams as well as sports news around the globe.
Jones didn't get his prize, though. So Dallas is sticking with Newman.
Uh, no hard feelings, right Terence?
"It's a business, you know?" Newman said Sunday in his first interview since Asomugha jilted the Cowboys for the division rival Eagles. "I'm here, he's in Philly. That's what I'm focused on right now, moving forward."
It sure beats looking back.
Like everyone else on the Dallas defense, Newman struggled last season. He and Mike Jenkins each went from Pro Bowler in 2009 to among the most-burned cornerbacks in the NFL, according to STATS, Inc.
Newman gave up 58 receptions for 871 yards and three touchdowns. Only five cornerbacks allowed more yards, nine more catches. Jenkins was among those giving up more yards, 935, the second-most in the league.
Because teams were successful throwing against either cornerback, quarterbacks felt comfortable throwing to anywhere on the field. That doesn't happen in a secondary manned by Asomugha. He was so feared that only 33 passes came his way all season; only 13 were caught. So it's easy to see why Jones coveted Asomugha.
Newman likely would've been the odd man out because he turns 31 a week before the opener and counts $10 million against the salary cap this season. He was considered a possible cut long before the courting of Asomugha simply because of the $8 million in cap room the Cowboys could've created by dropping him. Perhaps the fact they didn't helps make up for the slight of the Asomugha negotiations.
The Cowboys also are trying to make Newman feel wanted with their words.
Secondary coach Dave Campo said Saturday that the front office never should've tried to sign Asomugha and new defensive coordinator Rob Ryan tried to downplay how seriously the Cowboys negotiated. Jones added that Newman knows "you can't have enough corners, enough outstanding corners." Coach Jason Garrett joined the chorus on Sunday, calling Newman "a very talented guy."
"He doesn't seem to me that he's a guy who is slowing down at all," Garrett said. "He still runs well, he's very quick, he has good awareness in the game and he will continue to grow."
His job safe for the time being, Newman knows the best way to keep it that way is by cutting down the number of receptions he allows.
"We didn't play very well in the secondary last year, and the No. 1 focus we have right now is to try to get better -- as a team, as a secondary, as a defense," he said. "I'm not a prophet and I can't tell you what's going to happen in the future. All I know is what I can do and what I can control. I'm just out here trying to get better."
The secondary and the entire defense are in flux. The Cowboys are aiming to sign at least one starting safety and perhaps two, and they've just signed two defensive ends. But the biggest change is Ryan implementing his scheme, which is far more intricate than the one designed by Wade Phillips that Dallas used the past four years.
Newman joked that trying to learn Ryan's playbook is the only thing that's hurt his feelings this week.
"Having 60 new defenses come in in four days?" he said. "My head is spinning."
In addition to the fresh hope everyone has this time of year, there's also good health. Newman didn't have that last season. He played through a painful rib injury, needing pain-killing shots to make it through all 16 games. He's missed only nine games in eight seasons and prides himself on not talking about injuries, even though he's had his share.
Campo said he thought Newman was having one of his best seasons before the injury, and he was impressed by the way Newman pushed himself through the rest of the season. He led the team with five interceptions and had the third-most tackles.
"Anybody that gets hurt is going to have a little bit of a tough time out there," Campo said. "There's a lot of guys, especially at the corner position, that kind of have a track mentality -- `If I'm not 100 percent, I'm not running the 100.' He didn't. He fought through it and was a big part of the last eight games, (going) 5-3."
Newman used the offseason to heal his body, and to get over the mental scars from last season. He worked out with a trainer in California. He went there because of a trainer he'd been recommended, not because he felt the need to get away from Dallas.
"I've got a space shuttle at NASA. If I wanted to get away, I would have just got in that bad boy," Newman said. "But the gas is expensive right now. I decided that California was the second best option."
Notes: Receivers coach Jimmy Robinson was not on the field a day after being run over by WR Teddy Williams during a punt return drill. "He's just taking it easy here for a day or so," Garrett said. "He's certainly very lucid and the same Jimmy Robinson that we know, but we just need to take any precaution necessary when something like that happens." ... Williams, who strained his hamstring on the collision, said, "It's just a blessing that neither one of us got hurt really bad." ... Newly signed DEs Marcus Spears and Kenyon Coleman watched practice. Like all signees, they aren't allowed to practice until the CBA is fully ratified, which is expected to happen by Wednesday. ... Fans booed loudly when a 58-yard field goal attempt by David Buehler barely crossed the goal line, never coming close to the goal post. They cheered just as loudly when rookie Dan Bailey drilled a 51-yarder.
Copyright AP - Associated Press