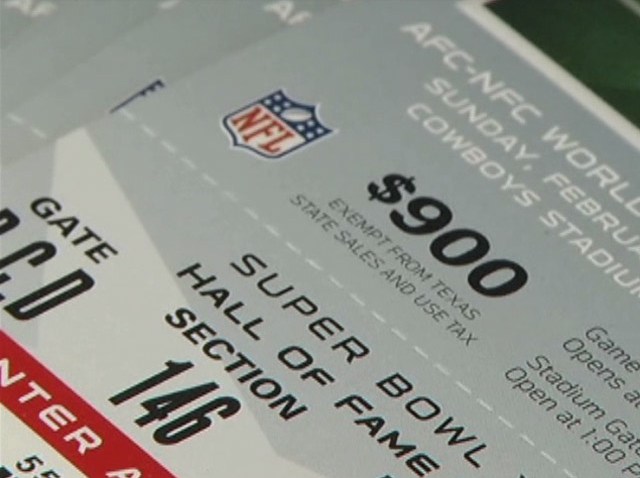 Jerry Jones spared no expense when he built Cowboys Stadium.
Now, North Texas football fans, Cheeseheads and thousands from the Steeler Nation are sparing no expense to see the Super Bowl in the NFL's grandest venue.
You won't be able to step foot inside the stadium for less than $1,750 -- and that doesn't even get you a reserved seat, just a standing-room only ticket.
Sports Connection
Connecting you to your favorite North Texas sports teams as well as sports news around the globe.
Even Party Plaza tickets aren't coming cheap.
Fans who buy Party Plaza passes will be on Cowboys Stadium premises to soak up the atmosphere, but they'll watch the game outside on a big screen. The NFL priced those tickets at $200, but many ticket brokers websites are selling them for upward of $300.
If you don't want to stand up for hours on end, a reserved seat in the nosebleed section in a corner of the stadium will cost you $2,500.
If you choose the upper-level seats, you'll still have a great view ... of the world's largest HD screen, which is 180 feet long and 72 feet tall.
Lower level seats cost upward of $8,000, and if money is no object, you can buy a suite for more than $135,000.
"There's a lot of demand, and it's only going to continue to increase as the game gets closer," said Hank Wendorf, owner of Ticketsource.com.
But the NFL, consumer watchdogs, ticket brokers and police are already warning people about ticket scammers.
"There is no doubt there will be counterfeit tickets for the this game in and around North Texas because of the value," Wendorf said.
The NFL has made the coveted Super Bowl tickets some of the hardest to replicate. They have several security features that scammers will find difficult to recreate.
Legitimate Super Bowl tickets will have heat-sensitive ink on the back, a high-gloss varnish and a raised, embossed Super Bowl logo in high-quality silver foil.
"There's a watermark on the back of the ticket with the NFL logo, and there's a hologram on the back of the ticket with the Super Bowl logo," Wendorf said.
The Better Business Bureau of Dallas suggests fans buy from a brick-and-mortar business in person or a from a trusted website and use a protected credit card so there is a paper trail.
The BBB said sellers wanting buyers to pay with a wire transfer is a red flag.
"Sometimes you'll see an online ad that says, 'Wire the money. Go down to Western Union right away,' and that's a favorite method for scammers to use," BBB spokeswoman Jeanette Kopko said.
The bottom line is, there are no "cheap seats" for the Super Bowl.
"Knowing what the prices are -- usually if you have the opportunity to buy tickets, and it seems too good to be true, it probably is," Wendorf said.