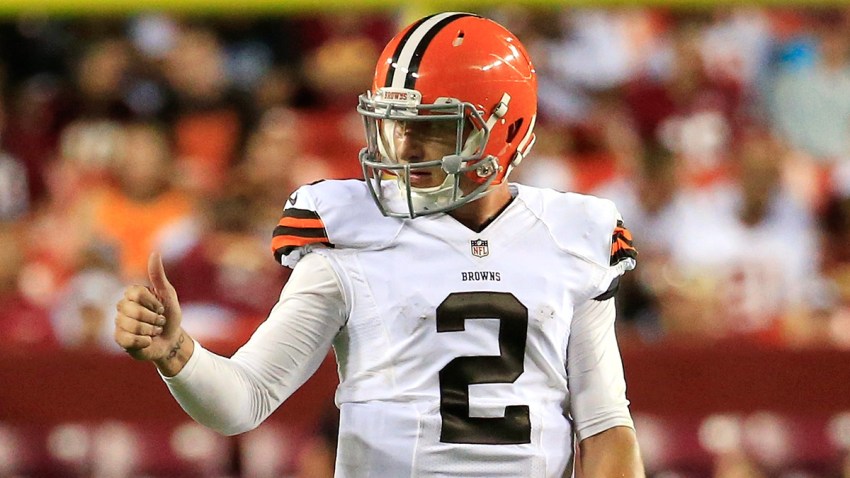 When he was at Texas A&M, I dubbed him "Johnny Goofball."
As of yet, Johnny Manziel hasn't given me a reason to call him anything else.
So let's douse the Manziel-to-the-Cowboys fire before it even begins to smolder. Why?
Sports Connection
Connecting you to your favorite North Texas sports teams as well as sports news around the globe.
Because Manziel is a selfish, entitled, immature and irresponsible kid who can't handle himself, much less the load of America's Team. Given the starting job in Cleveland, he promptly went out and partied and then lied about it to his bosses. He's just now learning the lesson of accountability.
Remember at A&M when he gave the money sign with his hands after every touchdown? That wasn't about team. Or leadership. Or joy. It was about him, and only him. He uses football to get what he really desires: Fame and fortune.
There's no denying Jerry Jones' fondness of Manziel. He's a charismatic player. A buzz generator. And, yes, a young, home-grown quarterback. But, remember back in '07, Tony Romo caught Hell for taking a weekend trip to Cabo on an off weekend before a playoff game. Imagine the uproar and distraction the first time Manziel was spotted at Concrete Cowboy sipping champagne after dark.
There can't possibly be a worse place for Manziel to mature than in the Cowboys' chaotic, magnified locker room. His off-the-field life is a broken play and under Jones' coddling wing isn't the place to fix it.
Oh yeah, and about football.
In case you haven't noticed, Manziel is not an NFL-caliber quarterback. Not yet, anyway. He doesn't read through his progressions. He's not accurate as a passer. And his film study – critics in Cleveland claim – is bare-bones minimum.
Where Manziel excels – as he did in college – is when a play breaks down. When using his athleticism and innovation, he's a playmaker. But this is the NFL, not some sandlot in Tyler or College Station. In the pros, the bad guys chasing Johnny Goofball are faster, stronger, bigger and definitely more disciplined.
The NFL's best quarterbacks are pocket passers. Manziel has his out-of-the-pocket strengths, but when's the last time an offensive coordinator designed a play called "Broken Play." Goofball could help, but not consistently.
The Cowboys were right to draft Zack Martin over Goofball two years ago. And they'd be wise to pass on him again this offseason.
---
A native Texan who was born in Duncanville and graduated from UT-Arlington, Richie Whitt has been a mainstay in the Metroplex media since 1986. He's held prominent roles on all media platforms including newspaper (Fort Worth Star-Telegram, Dallas Observer), radio (105.3 The Fan) and TV (co-host on TXA 21 and numerous guest appearances, including NBC 5). He lives in McKinney with his wife, Sybil, and two very spoiled dogs.
Copyright FREEL - NBC Local Media