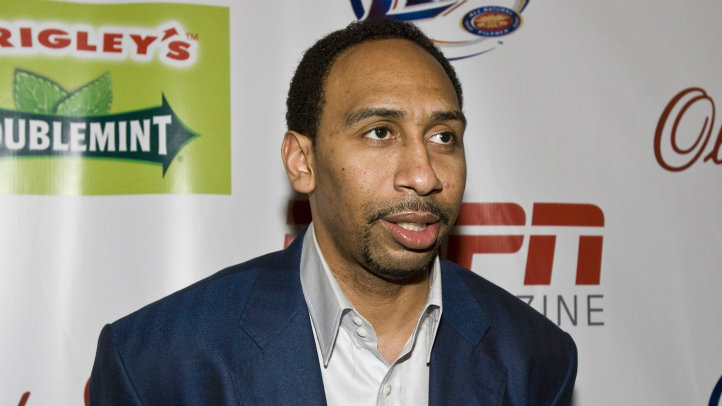 ESPN's Stephen A. Smith has made a career out of going on television and shouting about sports, and occasionally, he shouts a good point. This is not one of those instances.

In a recent segment on ESPN's "First Take," the platform from which he does most of his shouting, Smith took exception to Brett Favre defending Tony Romo. Earlier in the week, as you might remember, Favre compared Romo to himself, before saying (to paraphrase) that Romo has done all he possibly could with the supporting cast in place in Dallas.

Smith not only disagrees with this statement, but he seemed almost personally offended when discussing (read: shouting about) Favre's take.

"This dude [Romo] didn't get it done. So when I sit here and listen to somebody like Brett Favre opening his mouth talking about Tony Romo like he's a victim, what are you talking about?" Smith said, via the Dallas Morning News. "[Romo] had DeMarco Murray, he had Dez Bryant, he had Miles Austin even though he got hurt, you always had Jason Witten. … You're playing in a billion-dollar playpen and you're talking about this dude as a victim? What world is [Favre] living in?"

Actually, all of the weapons Smith listed with the exception of Witten missed time last year with injuries and we're not sure what the price tag on Cowboys Stadium has to do with anything. At all. But Smith wasn't done. Not only should we not view Romo as a victim, Smith posits that the victim here is--get ready for it--Jerry Jones.

"I'm saying [Favre] has a lot of nerve and a lot of gall saying what he said," Smith said. "The victim in Dallas is Mr. Jerry Jones, an owner that puts his money where his mouth is and has given Tony Romo the weapons to produce, and he hasn't gotten there."

And now our heads hurt.

Stay on top of the latest Dallas Cowboys news with NBCDFW.com. Follow NBC DFW on Facebook or have breaking Cowboys news sent directly to your phone with Blue Star SMS alerts. Text "bluestar" to 622339 (NBCDFW) to subscribe, text HELP for more info, and text STOP to end the subscription. Message and data rates may apply.Read more about it here.
Copyright FREEL - NBC Local Media