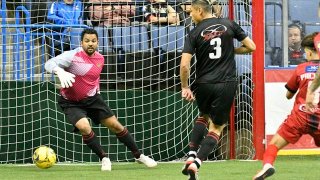 The Dallas Sidekicks were forced to play Wednesday's game against the Ontario Fury (California) while wearing the uniforms of another team after theirs were stolen.
The team said Wednesday that the players were enjoying dinner when someone took off with all of their gear and personal items -- not only their shoes, shin guards and jerseys but many of the players' passports and other identifying documents.
"The whole experience was a very stressful situation. Several of the guys lost their passports, visas, ID's and money -- that can be very dangerous if gets to the wrong hands," said rookie forward Victor Almendariz.
The team they were set to play, the Ontario Fury, quickly jumped in to help with the immediate need of gathering some gear so they could play their game. They worked with a local sponsor, 100% Soccer, to help find the Dallas team the shoes, shin guards and other equipment they would need to play the game.
"We're all one family in the end," said Ontario Fury President Bernie Lilavois. "It's unfortunate that this happened, but I'm glad that we were able to put a plan in action right away and help the 'Kicks get ready for tonight. When I called Dennis at 100% Soccer he understood and wanted to help in any way they could."
They even found a set of jerseys -- those last worn by the now-shuttered M2 franchise Stockton Rush.
"We are good guys who bust our butts to play the sport we love, and to have all of our stuff taken from us was a hard blow," said goalkeeper Juan Gamboa. "I was in disbelief at first and then I felt angry that people would take advantage of us. I personally tried to use the game as an escape from reality, even if for just those two hours."
Sports Connection
Connecting you to your favorite North Texas sports teams as well as sports news around the globe.
Gamboa said after they waited for the police to show up to take the report and then getting the gear they needed to play, they arrived at the arena only about 40 minutes before kickoff and barely had time to warm up.
Almendariz said the team was emotionally and mentally drained before the game began and that, while they appreciated all the effort it took to get them on the field, it was a struggle to play in unfamiliar gear and with shoes that didn't fit.
"Ontario was very nice in helping us out as much as they can. Another team let us use their uniforms and Sidekicks bought us shoes so that we can play … funny enough some of the shoes weren't even the right size as the store didn't have all the sizes," Almendariz said. "It's just a story to remember."
The Fury's charity didn't extend to the field and they beat the visiting Sidekicks 13-4.
"The game was already against us and at that point all we wanted to do is come out and play how we have been doing it the past 3-4 games, and I think we did well," Almendariz said. "The team showed personality and desire of going out and playing for our club after all of that."
The Sidekicks said they'll have replacement uniforms in California in time for Friday's game against the Turlock Cal Express. Meanwhile, players are struggling to rebound after losing their personal effects.
"I lost my wallet, passport, keys, and all of my soccer gear," said goalkeeper Juan Gamboa. "I personally tried to use the game as an escape from reality, even if for just those 2 hours. Once the game was over, it was back to trying to figure out how I would be able to get on my flight without any documents, and how I'd get home if my car keys had been taken as well. It's an experience I hope no one ever has to go through."
After the trip to California, the Sidekicks come home for two matches against the San Diego Sockers and Mesquite Outlaws.