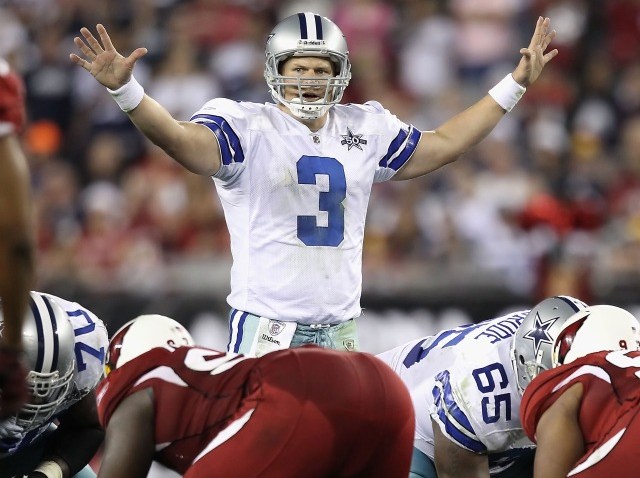 It's officially the offseason and that means it is time too start figuring out which current Cowboys should be looking for new employment in 2011. In the spirit of the Clash, we're asking Should He Stay or Should He Go. Next up is Jon Kitna.
Name: Jon Kitna
Postition: Quarterback
Sports Connection
Connecting you to your favorite North Texas sports teams as well as sports news around the globe.
Relevant Statistics: 10 games, 65.7% completions, 2,365 yards, 16 touchdowns, 12 interceptions, 147 rushing yards.
If He Goes, Will There Be Trouble?: You can't answer that question with any degree of confidence because it has everything to do with Tony Romo and nothing to do with Jon Kitna. If Romo is healthy, the backup quarterback might as well be Gary Hogeboom because there's nothing to do but carry a clipboard and slap the starter on the rear.
Should Romo get hurt, however, the situation becomes different. Kitna did some really good work to help the Cowboys win games after Romo broke his collarbone. They probably don't win those games if Stephen McGee is thrown to the wolves right away, but McGee's play in the last two games makes you wonder just how much worse things would have been if the Cowboys went in that direction.
Experience is the biggest thing Kitna has to offer, but that's been lessened now that McGee has actually seen the field. When you throw in the fact that Kitna's set to make $2.6 million as a 39-year-old, it's hard to make a real compelling case that the Cowboys would be worse off without him holding a clipboard next year.
If He Stays, Will There Be Double?: The fear of a Romo injury does make it easier to swallow having an older, expensive hand on the bench, but it's a double-edged sword. McGee showed enough to make you think he's worthy of an expanded role. Yes, it's a risk in the event that Romo goes down again, but you need to take those kinds of risks to succeed in the NFL.
So, Come On and Let Me Know: Kitna would be a nice luxury to have next season, but the Cowboys can put his salary and roster spot to better use on things that will help them every week.
Stay on top of the latest Dallas Cowboys news with NBCDFW.com. Foll ow NBC DFW Sports on Facebook or have breaking Cowboys news sent directly to your phone with Blue Star SMS alerts. Text "bluestar" to 622339 (NBCDFW) to subscribe to this free service. Read more about it here.
Copyright FREEL - NBC Local Media