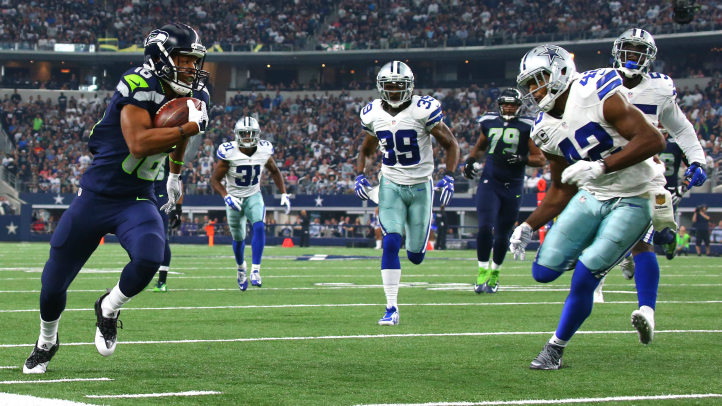 With a half of football in the books in Arlington, the visiting Seahawks lead the freefalling Cowboys, 10-6.

The Seahawks looked like they were coming out guns a-blazin' on offense, marching 72 yards in just over six minutes before the Cowboys' defense woke up and they were forced the offense to turn it over the Steven Hauschka, who gave the visitors a 3-0 lead on a 26-yard field goal.

The Cowboys didn't respond until the end of the first quarter, when Dan Bailey tied it up with a 33-yarder.

The Seahawks finally found the end zone in the second quarter, when Russell Wilson hit Luke Wilson for a 22-yard touchdown pass.

The Cowboys answered with a 35-yard Dan Bailey field goal to pull within four at 10-6, but for a moment, it looked like they'd have a chance to keep the drive moving toward the end zone and maybe tie it up. Coming out of a timeout, the Seahawks' defense lined up with 12 men on the field. Pete Carroll called a timeout, but they were coming out of a timeout, remember, so that's not allowed. But they stopped the clock anyway, and had Bailey just line up for the field goal again as if nothing happened.

The half ended on a scary note.

Seahawks' return man Ricardo Lockett was hit by Jeff Heath on the kickoff following the field goal, crumpled to the ground and stayed there. Seahawks players and staff immediately came to Lockett's side, and he was carted off, at which time he raised his hands but that's all we know at the moment.
Copyright FREEL - NBC Local Media