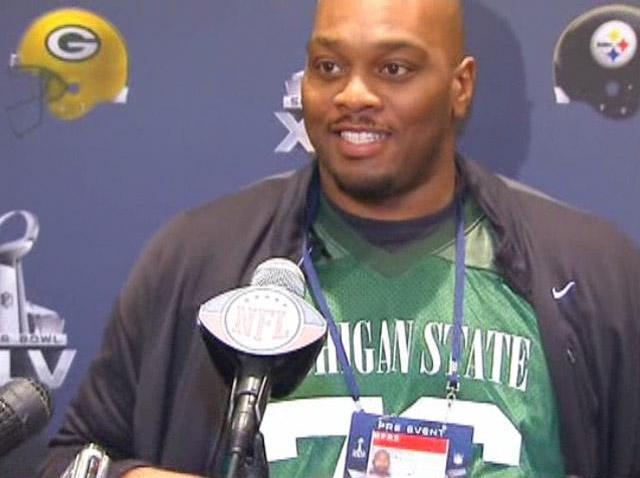 Donald Driver is finally at the Super Bowl after 12 seasons with the Green Bay Packers.
So what was going through the veteran receiver's mind when the team landed in North Texas late Monday afternoon?
"Nothing. I was laughing and joking. We were all joking around so I wasn't thinking of anything," Driver said. "Before you knew it, we were on the ground. Once I got off, my wife and kids called me and told me that they were watching on TV."
Sports Connection
Connecting you to your favorite North Texas sports teams as well as sports news around the globe.
Driver's wife told him to wave to her as he was getting off the plane. After he did that, his young son and daughter then wanted him to get back on the plane -- they wanted him to wave at them, too, though he had to tell them he couldn't.
A seventh-round draft pick out of Alcorn State in 1999, Driver is a three-time Pro Bowl selection who has a franchise-record 698 catches. He is second in yards receiving, only 41 behind James Lofton's 9,656.
And now he finally has a chance to win a Super Bowl.
"Can I believe it now? Now I can," he said, smiling. "It's Monday, this is the day I think you really get to a point when you start believing that you're finally here. I think that all the dreams that you dream about have come true. So I'm very excited. This is a great moment for me."
JOYFUL FLO
Even Pittsburgh coach Mike Tomlin knew his description of offensive tackle Flozell Adams didn't sound right.
"Flozell is a joy to be around," Tomlin said. "It might sound funny, but he doesn't always have a great disposition, but we enjoy that about him, too. The thing that is probably most impressive about Flozell is that his intentions have been so pure since the day that he joined our football team."
As Adams later put it, "I'm not in a bad mood all the time, man. It just looks like it."
Adams is finishing his 13th NFL season, and first with Pittsburgh, with his first Super Bowl.
The rest of the Steelers' offensive linemen paid tribute to Adams' first Super Bowl by donning No. 76 Michigan State jerseys during their travel Monday. That was the number the five-time Pro Bowl tackle wore at the Big Ten school -- and the linemen had one of the green jerseys for Adams to wear, too.
"It's special to bring back the throwbacks, for all the guys to wear them," he said. "I'm grateful for it."
Adams' first Super Bowl is being played at Cowboys Stadium. He played his first 12 seasons for Dallas before being released last April, a month before his 35th birthday.
"I wasn't crying or anything like that, or like boohooing," he said. "I'm like, OK, well, that's it, so it's time to move on."
FEELS LIKE HOME
With temperatures dipping below freezing and expected to stay that way for several days, Green Bay and Pittsburgh players should feel right at home in North Texas.
"Sorry we brought the weather with us from Green Bay," Packers coach Mike McCarthy said.
Both teams have indoor facilities they can use once they start onsite practices Wednesday. But the Packers will have to go to different locations depending on whether they want to work inside or out.
McCarthy said he'll visit both facilities Tuesday. The NFC champions are set to work out at SMU, but will have to go to a local high school's indoor facility if they don't want to stay outside.
"We talked about it on the plane ride," McCarthy said. "With the weather and the indoor facility and the surface and so forth, we'll probably make that decision sometime later (Tuesday)."
The AFC champion Steelers are working out at TCU, where the Rose Bowl champion Horned Frogs have an indoor facility adjacent to their outdoor fields.
BEEN THERE, DONE THAT
Like so many of the Pittsburgh Steelers' players, linebacker LaMarr Woodley has Super Bowl experience. They won the championship two years ago, and had another title in 2006.
"I'm just trying to keep my day to day the same," Woodley said. "This is my second time here, so I'm not caught up in all the hype and the different things that are going on around the city. I'm just going to be focused around the hotel, going out, and maybe going to the movies.
"A lot of guys on the team, it's their third time around," he said. "I'm still following those veteran guys that have been around for a while."
The Steelers are staying in downtown Fort Worth. Their practice facility is only a few minutes away on the TCU campus.
Copyright AP - Associated Press