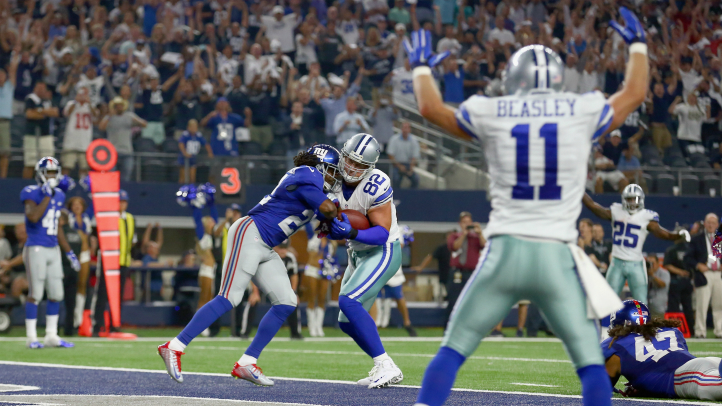 The Dallas Cowboys spent much of Sunday night shooting themselves in the foot, but in the end Romo Magic prevailed and the team came away with a nail-biter of a 27-26 division victory to open the 2015 season.

It wasn't all good news on Sunday, however. All-Pro receiver Dez Bryant was forced to leave the game with an ankle injury, as was rookie defensive end Randy Gregory. We'll have more on those two when we get it.

Cowboys kicker Dan Bailey opened the scoring with a 21-yard field goal to cap the Cowboys' first drive and give the home team a 3-0 lead.

The Giants tied it with a 50-yard field goal off the foot of Josh Brown a couple minutes later, but the tie would be broken again in the second quarter with Bailey's second field goal of the night, a 32-yarder to make it 6-3 Dallas.

New York then went on a run in the final three minutes of the half, scoring ten points off of two huge turnovers--a Cole Beasley fumble returned for a touchdown and a Tony Romo interception, which resulted in a 40-yard field goal for Brown.

The Giants extended their lead to 16-6 after intermission with a 30-yarder from Brown. The Cowboys answered with Romo's first touchdown pass of the season, to Gavin Escobar, to pull within 16-13. Then the turnovers struck again.

This time Devin Street--who was in for Dez Bryant--bobbled a pass from Romo, had it taken away and returned to the one-yard line. Rashad Jennings ran it in from there and things looked bad, with the Giants up 10, at 23-13 with eight minutes left.

The Cowboys pulled back in it on their next drive with a touchdown pass from Romo to Witten and the defense held the Giants to a field goal on their next possession to give Romo and co. one last chance at it. And man did they take advantage.

Dallas marched down the field in about a minute and a half behind Romo, and he hit Witten on an 11-yard touchdown pass to tie it up with seven seconds left--making it the latest game-winning touchdown in franchise history. Bailey's extra point was good for the win.

Romo finished 36 of 45 passing for 356 yards, three touchdowns and two interceptions. On the other side, Eli Manning was 20 of 36 for 193 yards and no touchdowns or interceptions.

In the first game in the absence of DeMarco Murray, Joseph Randle went for 65 yards on 16 carries, while Darren McFadden added 16 on six carries.

At 1-0, the Cowboys will travel to Philly to face Murray and the Eagles next Sunday.
Copyright FREEL - NBC Local Media