The Texas Rangers announced the cutouts of fans in their "DoppelRanger" program were in the stands for the team's opening day at Globe Life Field.
"All the Major League teams saw what they were doing in Europe at soccer games and in Asia with baseball games and saw it and I think we all got together and realized this is something we needed to do so it just wouldn't be a sea of green seats," said Karin Morris the Texas Rangers' vice president for community outreach and executive director of the Texas Rangers Foundation.
The program, announced on July 10, allows fans to pay $50 to have their likenesses located in the lower seating bowl areas behind home plate and the dugouts for at least the Rangers' July games at Globe Life Field.
The proceeds from the "DoppelRanger" program benefit the Texas Rangers Foundation.
"The great part about it is it is a fundraiser for our Texas Rangers Baseball Foundation so it gives us an opportunity to direct those funds we raise through this back into the community which is facing ever-increasing needs due to COVID and everything going on in the country and so it's wonderful to have those resources to be able to give back," said Morris.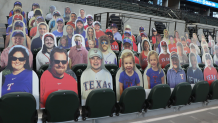 The Rangers play their first game of the season on Friday against the Colorado Rockies without fans due to the COVID-19 pandemic.
Local
The latest news from around North Texas.
Rangers Manager Chris Woodward was asked if the cardboard cutouts are creepy. "I don't think it's creepy at all. I think it's great. They're not going to move so it's going to look different but if you just glance around, it looks like people in the stands," said Woodward. "Listen we've got get creative. This is something. Nobody's ever dealt with this before and so if that's what it takes to get a little normalcy on the field, I have no problem with it."
Fans who purchased a DoppelRanger after July 16 will not have their cutouts on display on opening day, according to their website.
"Our goal is the next group of people will be in place by our next homestand and we'll just keep going through the lower bowl and then extend more into the upper sections but hopefully we'll fill the ballpark with initially cardboard cutouts and can't wait to fill the ballpark with fans," said Morris.
The team has said if fans are allowed at games later in the season, the "DoppelRangers" will be moved to different parts of the ballpark.
Fans will be able to take their "DoppelRangers" home at the end of the season.