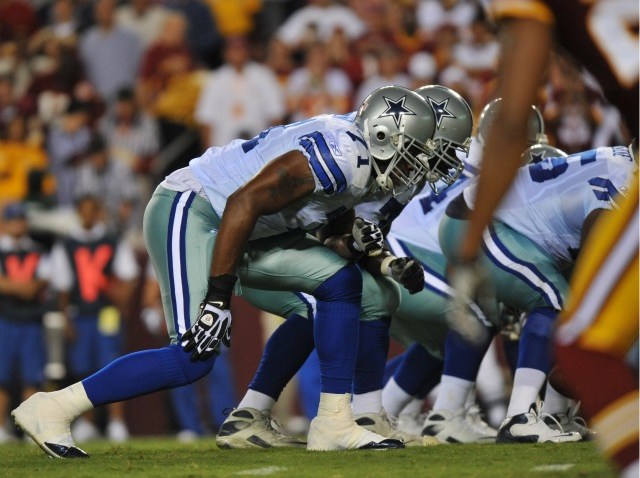 In part two of our five part series, devoted, somewhat masochistically, to deconstructing and ranking the five ugliest losses of the 2010 season, we go all the way back to week one. Oh, how young and naive we were back then, with visions--whether we'll admit it now, or not--of the Cowboys being the first team to ever host a Super Bowl at home. Then, Dallas set a precedent of head-scratching badness that would last through most of the unfortunately coming season.

4.) Week 1 @ Washington. Redskins 13, Cowboys 7

Unlike most of the losses that will make the cut for this list, the final score of this one isn't all that bad. But what makes this loss so deplorable is not just that it was a loss, but it was a dumb and embarrassing loss, the first piece of evidence of the kind of season we had on our hands.

Dallas already had 11 penalties on the night, when Tony Romo hit Roy Williams for what would have been a game-tying touchdown as time ran out. Enter the Barron.

Filling in for injured right tackle Marc Colombo of course, was Alex Barron, a former first round bust acquired from St. Louis in the offseason in exchange for another former first round bust, Bobby Carpenter. Barron was already having a rough night by the time Romo hit Williams in the corner of the end zone as time ran out. Then, another, final piece of yellow laundry hit the turf at FedEx Field.

Holding, no. 71 of the offense.

With no time left on the clock, the 12th penalty of the night turned what would have been a win into a loss immediately, and a pattern of undisciplined, uninspired football was set into motion.

Wade Phillips take on the loss: "I thought we played hard."
Oy.
Stay on top of the latest Dallas Cowboys news with NBCDFW.com. Follow NBC DFW Sports on Facebook or have breaking Cowboys news sent directly to your phone with Blue Star SMS alerts. Text "bluestar" to 622339 (NBCDFW) to subscribe to this free service. Read more about it here.

Copyright FREEL - NBC Local Media