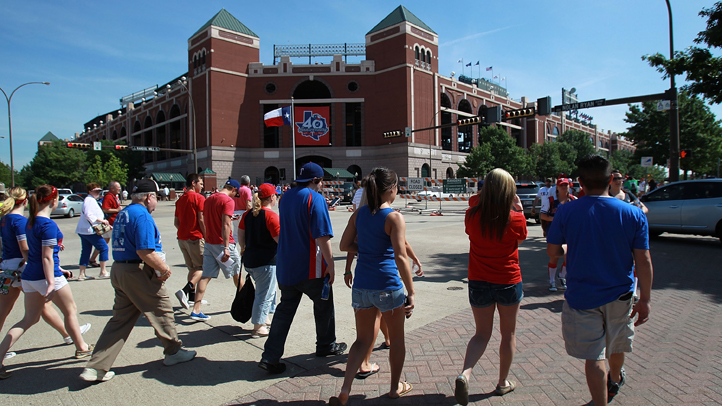 The Texas Rangers will open the 2016 season at home April 4 against the Mariners, the club says.
According to the Rangers, the home opener marks the 25th time in 45 seasons the Rangers have opened the season at home and the third time they've opened with the Mariners.
The Rangers said they beat the Mariners at the Kingdome in 1992 and lost at Safeco Field in 2008.
Sports Connection
Connecting you to your favorite North Texas sports teams as well as sports news around the globe.
After Monday's opener, the Rangers will go on to play Seattle Tuesday and Wednesday before heading out on the road for a four-game series against the Angels and three more in Seattle.
"The club returns to Arlington for its first extended home stand of 2016, a seven-game stand with Baltimore (April 14-17) and Houston (April 19-21)," the Rangers said in a prepared statement Tuesday afternoon.
The complete 2016 schedule was announced Tuesday by Major League Baseball.
"The 2016 home schedule also features four-game series with the Cleveland Indians, Kansas City Royals, and Minnesota Twins. The club also plays its final six games of the regular season at Globe Life Park in Arlington, hosting the Milwaukee Brewers (Sept. 26-28) and Tampa Bay Rays (Sept. 30 - Oct. 2) for three games each," the Rangers said.
Game times for the 2016 schedule will be announced at a later date. The complete schedule is attached.

2016 TEXAS RANGERS OPPONENTS
Team Home/Road
AL West Games
Houston Astros 10/9
Los Angeles Angels 9/10
Oakland A's 9/10
Seattle Mariners 9/10
AL Games
Baltimore Orioles 4/3
Boston Red Sox 3/3
Chicago White Sox 3/3
Cleveland Indians 4/3
Detroit Tigers 3/3
Kansas City Royals 4/3
Minnesota Twins 4/3
New York Yankees 3/4
Tampa Bay Rays 3/3
Toronto Blue Jays 3/4
Interleague Games
Chicago Cubs 0/3
Cincinnati Reds 2/2
Colorado Rockies 2/2
Milwaukee Brewers 3/0
Pittsburgh Pirates 3/0
St. Louis Cardinals 0/3
DV.load("//www.documentcloud.org/documents/2378349-2016-rangersschedule-notimes.js", { width: 650, height: 800, sidebar: false, container: "#DV-viewer-2378349-2016-rangersschedule-notimes" });
2016 RangersSchedule NoTimes (PDF)
2016 RangersSchedule NoTimes (Text)